Wanneer ons probeer om die vraag te beantwoord oor watter boeke profeties is, is die vraag 'n bietjie meer kompleks as wat ons eers aangeneem het.
Wat kwalifiseer 'n Bybelse boek asies?
Om hierdie vraag te beantwoord, moet ons eers vasstel wat met die term profeties bedoel word. Een van die eenvoudige definisies wat ek van profesie gehoor het, is dat dit "Gees-geïnspireerde uiting" is. Maar as dit die geval is, wat doen ons met  2 Timoteus 3:16  ?
Die hele Skrif is deur God ingegee en is nuttig tot lering, teregwysing, teregwysing en opleiding in geregtigheid…
Sou dit nie die Skrif ten minste in 'n sekere sin profeties maak nie? Wanneer die meeste mense egter aan profesie dink, dink hulle aan dit wat profeties is – wat voorspellend is en na iets toekoms wys. Wat doen ons dan met  Jesus  se woorde in  Lukas 24:27  ?
En begin met Moses en al die Profete, het Hy aan hulle verduidelik wat in al die Skrifte oor Homself gesê is.
Dus, in 'n ander sin, wys die hele Skrif na Jesus. Jesus is die vervulling van die hele Skrif. Weereens begin dit klink asof die hele Skrif profesieë is. Maar let ook op Jesus se woorde in  Lukas 24  . Hy maak duidelik 'n skeiding tussen "Moses en die profete". Wat gebeur daar? Dit was 'n afkorting vir die manier waarop die Skrif tussen Torah en die Profete verdeel is.
Ek deel dit alles om te sê dat daar nie 'n gesnyde formule is om iets 'n profetiese boek of  nie  'n profetiese boek te bepaal nie. Soos vroeër genoem—die hele Skrif is deur God geasem, en dit dui alles op Jesus. In daardie sin is alles profeties en hierdie konstrukte is ietwat arbitrêr. Maar daar  is  'n ander genre wat dikwels as profeties bestempel word. Daar is 'n verskil tussen die styl van 'n boek soos Jeremia en 'n boek soos Job of Esra of Handelinge.
Dit kan dus nuttig wees om te watter boeke as profeties beskou word. Maar dit is ook nie heeltemal so gesny en droog as wat 'n mens kan aanneem nie.
Watter boeke is profetiese boeke in die Bybel?
Vir die meeste Christelike Bybels is die Ou Testament volgens vier hoofafdelings georden: Pentateug, Historiese Boeke, Poëtiese en Wysheidsliteratuur en die Profete. In hierdie afdeling word die profete verdeel volgens die lyne van die groot profete en die klein profete. Die belangrike profete is Jesaja, Jeremia, Esegiël en Daniël. En Jeremia se werk in Klaagliedere word ook in hierdie kategorie geplaas. Die Klein profete is Hosea, Joël, Amos, Obadja, Jona, Miga, Nahum, Habakuk, Sefanja, Haggai, Sagaria en Maleagi.
Die Hebreeuse Geskrifte is egter anders verdeel. Die TaNaK is die akroniem wat gebruik word vir die drie hoofafdelings van die Hebreeuse Bybel: Torah, Nevi'im, Ketuvim. Nevi'im beteken profete, maar jy kan 'n bietjie geskok wees oor wat onder hierdie kategorie verskyn. Die Nevi'im word in drie kategorieë verdeel: die Voormalige Profete, die Laaste Profete en die Klein Profete. Diegene in die kategorie van Voormalige Profete is diegene wat die mees verrassende sal wees. Dit is Josua, Rigters, Samuel, Konings). En daar sal ook een profeet in hierdie gedeelte van die Hebreeuse Bybel ontbreek; naamlik Daniël. Daniël verskyn in die Ketuvim (Geskrifte) afdeling net soos Klaagliedere.
So, is Daniël 'n profetiese boek? As ons slegs deur hierdie arbitrêre verdelings gaan, sal dit in die Hebreeuse Bybel nie as profeties beskou word nie. Trouens, daar word gedebatteer of Daniël selfs as 'n profeet beskou moet word of nie. Die Talmoed  sê uitdruklik  dat hy nie 'n profeet is nie. Tog gebruik die boek Daniël apokaliptiese taal en vertel van die toekoms. Dit lees soortgelyk aan ander profete. So, is dit profeties?
Dit is waar ek dink dit is die beste om te erken dat hierdie klassifikasies arbitrêr is. Selfs met hoe Jesus na die hele Skrif verwys het, het hy die Geskrifte verlaat. Dit is nie omdat hy nie verwys het na hulle wat na Hom gewys het nie. Maar dit was eerder net 'n afkorting om "die hele Skrif" te sê. Weereens, dit is arbitrêr.
Dit is myns insiens beter om elke Skrifgedeelte op sy eie te laat staan ​​en die genre van elke afdeling te oorweeg eerder as om te probeer om hele boeke in 'n spesifieke genre in te dwing. Met ander woorde, daar is tye wanneer die boek Jeremia 'n profetiese genre van literatuur is. Daar is ander tye wanneer dit narratief is. Ons gebruik verskillende interpretasie-instrumente om 'n narratief te interpreteer en toe te pas as om 'n stuk profetiese of apokaliptiese literatuur te interpreteer en toe te pas.
Watter gereedskap moet ons gebruik om 'n stuk profetiese literatuur te bestudeer?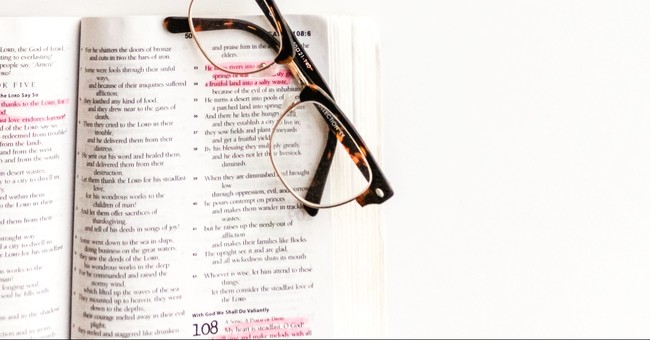 Fotokrediet: ©Unsplash/opregte media 
Hoe moet ons hierdie profetiese boeke van die Bybel bestudeer?
As jy dit oorweeg om 'n hele boek van die Bybel te bestudeer wat onder profetiese literatuur val, is die eerste stap om dit as 'n geheel te beskou en binne sy konteks te plaas. Hierdie boeke is geneig om af en toe van aard te wees – wat beteken dat daar een of ander historiese situasie is wat hulle gemotiveer het. Daarom is dit so belangrik as wat ons kan, om die agtergrondmateriaal in ag te neem. Is hierdie boek tydens die Assiriese inval aan die Noordryk geskryf? Is dit voor die Babiloniese ballingskap geskryf? Is dit geskryf aan die mense wat uit ballingskap teruggekeer het? Dit is belangrik om die hele Bybel te lees as 'n verenigde verhaal wat na Jesus verwys. Maar die eerste stap om dit te doen is om die teks in sy oorspronklike konteks te laat praat.
Een van die kenmerke van profetiese literatuur is dat dit tipies hoogs figuurlik is. Dit is 'n goeie idee om hierdie tipe taal te verwag. Robert Plummer wys op die belangrikheid daarvan om die literatuur te lees soos die skrywer bedoel het:
Die profeet se gebruik van poëtiese metrum is 'n verdere aanduiding dat 'n mens figuurlike, poëtiese uitdrukkings en simboliek moet verwag. As die skrywer bedoel het dat sy taal letterlik verstaan ​​moet word, wil ons dit letterlik verstaan. As hy bedoel het om sy woorde figuurlik verstaan ​​te word, wil ons dit ook so verstaan. Terwyl ons die teks bestudeer, soek ons ​​die bewuste bedoeling van die goddelik geïnspireerde skrywer. Die meeste moderne Amerikaners is geneig om alle taal letterlik te lees. Ongetwyfeld sal die Hebreeuse taal van die Skrif baie meer hiperbool en figuurlike taal bevat as die tipe literatuur wat die meeste moderne Amerikaners gereeld lees (bv. koerante, tydskrifte).
Jy het dalk al gehoor dat dit wys is om met jou Bybel in die een hand en jou koerant in die ander hand te lees. Hierdie tipe stelling word gewoonlik gemaak wanneer profetiese boeke van die Bybel oorweeg word. Ek dink eintlik so 'n stelling is verkeerd ingelig. Vir een is die koerant 'n ander genre as profetiese literatuur. En dit is altyd 'n versoeking om ons huidige situasie in die Bybel in te lees eerder as om die Bybel in ons huidige onrus te lees.
Dit is ook belangrik wanneer ons die voorspellende profesie oorweeg dat ons onderskei tussen dit wat reeds in Christus vervul is en dit wat op vervulling wag. Sommige van die literatuur is voorwaardelik en baie beperk tot sy tyd. Dink aan Jona se boodskap dat Nineve oor veertig dae vernietig sal word. Dit het nie gebeur nie, want dit was voorwaardelik. Dit sou swak ingelig wees om jou vyand se naam in die plek van Nineve te verskaf en aan te neem dat God vir jou "'n woord" gegee het dat jou vyand oor veertig dae omvergewerp sal word. Maar dit sou soliede eksegese wees om uit hierdie teks vas te stel dat wanneer ons ons bekeer, God vergewe.
Afsluiting
Die kernpunt van die profete is "so sê die Here." Dit is bedoel om vir ons te wys dat wanneer God praat dit waarheid is. Hy bedoel wat hy sê, en hy doen wat hy sê hy gaan doen. Die profete wys ons uiteindelik na Christus. Dit is in Christus dat al die beloftes van God hul "ja" vind. As jou interpretasie van 'n profesie meer met jou eie lewensituasie te doen het as met die voltooide werk van Jesus Christus, dan is dit waarskynlik op foutiewe gronde vasgestel. Ja, die Skrif praat met ons en hulle vermaan en bemoedig ons. Maar hulle gaan nie fundamenteel oor ons of ons historiese situasies nie. Die profete is nie gegee om mense 'n kristalbal in die toekoms te gee sodat hulle planne kon maak en hul beleggings kon red nie. Die primêre profetiese oproep was om te bekeer en op God te vertrou.