Kort voor Sy dood het Jesus se laaste oomblik met die dief diepe versekering gegee dat hy gered sou word toe Jesus gesê het: "Voorwaar Ek sê vir jou, vandag sal jy saam met My in die paradys wees." Daardie stelling het tienvoudig oor die wêreld weerklink en het onuitspreeklike hoop aan almal verskaf—dat ons van onsself gered sou word. Jesus se interaksie met die dief aan die kruis openbaar verskeie lesse wat ons as volgelinge van Christus kan leer.
Wat het gebeur met die twee diewe wat saam met Jesus gekruisig is?
Die Skrif sê vir ons Jesus het gewillig ons plek aan die kruis ingeneem sodat ons gered kan word. In die lente van 33 nC is Jesus gestroop, geslaan, bespot en geslaan voordat hy gekruisig is. Maar Hy was nie alleen nie. Daar op die heuwel, vasgenael aan 'n kruis aan beide kante van Hom, was twee diewe. Alhoewel ons nie hul name ken nie, sal ons hulle vir die doel van hierdie artikel noem:  Hoogmoedig en nederig . Saam  het hulle Christus saam met die skare gespot. Hulle het Jesus geterg deur te sê of Hy die een ware Koning is—hoekom het Hy dan nie van die kruis af geklim en Homself gered nie.
Tog, met verloop van tyd, het Humble besef Jesus was nie 'n gewone man nie. Jesus was ook nie 'n man wat so 'n pynlike en nederige dood verdien het nie. Deur die feite van die Romeinse kruisiging te bestudeer, sal jy vind dat kruisiging oor baie meer as pyn en straf gegaan het. Hulle doel was absolute vernedering. Dit was ook 'n manier om sosiale konformiteit te bewerkstellig. Die dief aan die kruis het geweet hy verdien om gekruisig te word, terwyl hy terselfdertyd besef het dat Jesus dit nie gedoen het nie. Die Skrif sê vir ons:
"Een van die misdadigers wat daar gehang het, het hom beledig: "'Is jy nie die Messias nie? Red jouself en ons! Maar die ander misdadiger het hom tereggewys. "Vrees jy God nie," het hy gesê, "aangesien jy onder dieselfde vonnis is?  Ons word regverdig gestraf, want ons kry wat ons dade verdien. Maar hierdie man het niks verkeerd gedoen nie."

Toe sê hy: "Jesus, onthou my wanneer U in u koninkryk kom." Jesus antwoord hom:  Voorwaar Ek sê vir jou, vandag sal jy saam met My in die paradys wees  ( Luk 23:39-43 ).
As ons na die drie kruise op Golgota kyk, het die grootste drama van die mensdom God se verlossingsplan  ontdaan . Dit word eenvoudig opgesom  as : " Een man het gesterf met skuld in hom en op hom. 'n Tweede man het gesterf met skuld in hom, maar nie op hom nie. Die derde het gesterf met skuld op hom maar nie in hom nie. "
Dit is merkwaardig dat terwyl Christus in ondraaglike pyn van die kruis was, Hy die hart gehad het om hierdie dief te troos. Dit is 'n  wonder-oomblik  wat ontvou en tog 'n skerp herinnering aan hoe ons kan kies om God te aanvaar of te verwerp. Dit is een van die vele lesse wat volgelinge van Christus uit hierdie verhaal kan pluk. Ons kan óf die oproep tot bekering aanvaar óf ons kan dit ignoreer.
Wat ons kan leer by die dief aan die kruis wat Jesus verwerp het
Ons dink nie dikwels te veel aan die dief 'Hoogmoedig' wat Jesus verwerp het nie. Die Skrif gee ons nie sy agtergrond nie. Dit sê ook nie presies hoekom hy nie deur kruisiging ter dood veroordeel is nie. Die Griekse woorde wat gebruik word om beide diewe in die Evangelies te identifiseer, beskryf beide as diewe, rowers, misdadigers, oortreders en rebelle. Die Griekse woord wat in die boeke Matteus en Markus gebruik word, sluit die idee van "plundering deur geweld" in. En Lukas se beskrywing suggereer 'n persoon wat 'n "boosdoener is. Volgens alle weergawes van hierdie beskrywings was Hoogmoedig en Nederig desperate en ellendige mans wat geleef het deur ander seer te maak. Hoekom is dit belangrik? Omdat Jesus aangebied het om die leiklip skoon te vee—Jesus het  verlossing aangebied . Hy het hoop en 'n koninkryk gebied om na tuis te kom. Die drie dinge wat ons kan leer is dit:
Ons almal verdien 'n sondaar se dood. Soos Hoogmoedig en Nederig, is elke  persoon  wat nog ooit gelewe het 'n sondaar. Ongeag hoe die samelewing sonde beoordeel, dit vergelyk nie met die heiligheid van God nie.
Maak nie saak hoe die samelewing die erns van ons sonde beoordeel nie, in vergelyking met die heiligheid van God, ons is almal gewelddadige, geharde misdadigers. Ons sonde het die doodstraf verdien. Deur sy laaste oomblikke aan die kruis langs Jesus sien ons dat hy sonder nederigheid en sonder geloof doodgely het. " Want die loon van die sonde is die dood  ( Romeine 6:23 )."
Ons moet almal kant kies. Ons het almal 'n keuse wanneer dit by Christus kom. Maak nie saak wat ons agtergrond is nie, maak nie saak hoe donker en somber nie – God is daar en bied 'n uitweg. Maar dit hang van ons af. Ons kan óf 'n kwaad, bitter persoon sonder hoop sterf óf ons kan die lewe kies. Ons kan nie op die heining sit nie. Versuim om Jesus te kies, kies om Hom te verwerp. Almal sal kies en almal sal na een van twee bestemmings gaan as gevolg van die keuse wat gemaak is. Ons kan óf die dief wees wat Jesus verwerp het óf die een wat nederig na Jesus toe gekom het.
"Elkeen wat in Hom glo, word nie veroordeel nie, maar elkeen wat nie glo nie, staan ​​reeds veroordeel omdat hulle nie in die Naam van God se enigste Seun geglo het nie"  ( Johannes 3:18 ).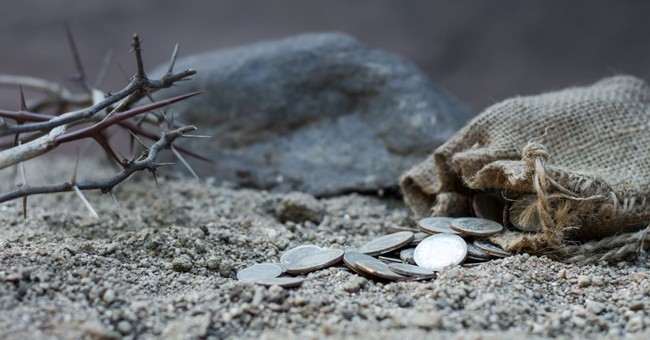 Fotokrediet: ©GettyImages/gabrielabertolini 
Wat ons kan leer by die dief aan die kruis wat tot bekering gekom het
Toe die dief Humble op die punt was om te sterf, het hy hom tot Jesus gewend vir vergifnis en Christus het hom aangeneem. Dit wys vir ons dat dit nooit te laat is om na God te draai nie—selfs in ons donkerste uur. Hierdie deurslaggewende oomblik leer ons ook dat ons dade ons nie red nie, net geloof in Christus.
Die nederige dief het sy sonde erken. Hy het in Jesus geglo. Soms wonder ek of hy die stories van Jesus deur die gerugmeul gehoor het. Het hy geweet dat Jesus Lasarus uit die dood opgewek het? Het hy geweet Jesus het ander genees? Het hy verstaan ​​dat Jesus se koninkryk nie 'n fisiese koninkryk was wat kom nie, maar een wat ons siele red? Miskien het Humble die legendes en die gerugte gehoor. Of miskien was hy so berou oor die manier waarop hy gelewe het—hy het die hand van God op Jesus gesien. Hoe dit ook al sy, Humble het genade en vergifnis gevra. En Humble  het  Jesus met sy ewigheid vertrou . Jesus het Humble toe met hoop vertroos: "Voorwaar Ek sê vir jou, vandag sal jy saam met My in die paradys wees ( Lukas 23:43 )."
Deur Humble se storie leer ons:
Christus ontvang die nederiges:  Die nederige dief het sy misdaad erken om in sonde te lewe. Hy het die getuienis oor Jesus geglo en Humble het Jesus met sy ewigheid vertrou.
"Jesus, dink aan my wanneer U in u koninkryk kom ( Luk 23:42 )"
Jesus het Humble se hoop bevestig . "Voorwaar, Ek sê vir jou, vandag sal jy saam met My in die paradys wees. ( Lukas 23:43 )."
Slegs deur Christus kan ons gered word : Deur Nederig leer ons dat alle sondaars 'n Christus nodig het en maak nie saak hoeveel ons sondes is nie – ongeag hoe gering of uiters, dit is nooit te laat om Jesus te aanvaar nie. Dit is nooit te laat om huis toe te kom nie ( Efesiërs 2:8-9 ;  Openbaring 22:17 :  Hebreërs 9:27 ). Dit is nooit te laat vir die Heilige Gees om die hart na Christus toe te beweeg nie.
Deur Humble leer ons hoe om Jesus te aanvaar : Ons moet hierdie gawe aanvaar, maar hoe doen ons dit?
Jy moet erken jy is 'n sondaar : Bely God en bekeer jou, draai van jou sonde na God. Sien  Handelinge 3:19 .
Jy moet glo dat Jesus God se Seun is:  Vertrou Hom as die Verlosser wat vir jou sondes aan die kruis betaal het. Sien  Johannes 20:31 .
Jy moet glo dat Jesus opgewek is : Bely aan Christus dat Hy die Here van jou lewe is. Sien  Romeine 10:9-10 .
"Glo" beteken om "geloof te hê in; vertroue in te stel." Om in Jesus te glo is meer as net intellektuele erkenning. Dit beteken jy gee jou lewe oor aan Sy beheer en maak Jesus jou Here! Mag ons almal die lesse onthou wat ons geleer het van die dag toe Jesus die  wêreld verander het : " Een man het gesterf met skuld in hom en op hom. 'n Tweede man het gesterf met skuld in hom, maar nie op hom nie. Die derde het gesterf met skuld op hom maar nie in hom nie. "