Daar was tye wat ek en my man so moeg was dat ons dit skaars deur die roetine kom. Ons oë pyn en ons lywe is verslete, maar ons hou by die roetine. Hoekom? Want ons kinders het geleer om so te rus. Dit is nou in hul lyfies en gedagtes ingeburger dat ons 'n peuselhappie moet eet, dan ons tande moet borsel en dan bid. Daardie drie dinge probeer ons elke aand godsdienstig hou, want as ons selfs 'n bietjie afwyk, is hulle rusteloos.
Natuurlik, elke aand het ons dalk een of twee kinders wat uit die bed klim en 'n vraag vra of 'n seerkry uitspreek. Daar is uitstappies na die badkamer en hervul van waterbottels. Oor die algemeen kom hulle vinniger tot rus en raak vinniger aan die slaap as ons seker maak dat ons daardie drie dinge doen. Trouens, jy kan  hier drie maniere lees hoe gebed jou kinders kan help om aan die slaap te raak .
So, wat is jou slaaptydroetine? Jy besef dalk nie jy het een nie – maar die meeste mense doen. Eet jy 'n versnapering? Lees 'n boek? Kyk na 'n TV-program? Is gebed deel van jou roetine? Gebed is 'n goeie manier om jou te help om aan die slaap te raak. Gebed kan ook voorsiening maak vir 'n dieper gevoel van vrede terwyl jy slaap. Ek het jare gelede begin bid voordat ek aan die slaap geraak het, maar daar is nog een ding wat ek by my nagroetine gevoeg het wat my ook gehelp het om my verstand en hart te ontspan.
'n Slaaptydroetine
Om aan die slaap te raak, beteken nie dat ons ons slaaptydroetine met meer dinge of met betekenislose aktiwiteite moet vul nie. Ons kan nooit ons besige doenlysies opsy sit as ons nie doelbewus is nie. 'n Beter nagroetine kan die verwydering van die leë goed insluit. Ek sê nie jy moet nie TV kyk of 'n boek lees voor jy gaan slaap nie. Ek doen albei – gereeld. Maar daar is iets belangrik oor waaroor jy dink net voor jy jou oë toemaak.
Die grootste stryd is om my foon laaste weg te sit. Ja, ek blaai deur sosiale media net voor ek gaan slaap, maar daar is 'n beter keuse daar buite. Jesus was opsetlik. Hy het Sy tyd alleen gebruik om te bid, God te soek en uit te vind wat God vir Sy lewe wou hê. Hy het staatgemaak op Sy tye van alleen wees om Hom na die volgende stap te lei.
Of jy snags fisies alleen is of nie, maak nie saak nie. Voordat ons aan die slaap raak, het ons 'n keuse waarmee ons ons gedagtes vul. Ons het die vermoë om ons gedagtes op Christus te rig ( Romeine 12:1-2 ) net voor ons aan die slaap raak. Hoe jou slaaptydroetine ook al lyk, jy kan steeds sukkel om vrede te vind, te rus, of selfs aan die slaap te raak. Kan ek voorstel dat jy jou Bybel lees?
Om Bybellees by jou roetine te voeg, voeg nie veel ekstra tyd by nie. Trouens, dit sal jou dalk net vyf ekstra minute neem om jou Bybel op te tel, 'n paar verse deur te lees en dan gereed te wees vir bed. Waarvoor sal jy eerder gaan slaap: die nuus van sosiale media, of God se heilige, geïnspireerde Woord? Ons stem almal saam Bybellees is beter, maar hoekom? Hoe help die lees van ons Bybel ons aan die slaap raak en gee vrede aan ons harte? Ek het hierdie vyf maniere gevind waarop Bybellees in die nag ons help om aan die slaap te raak: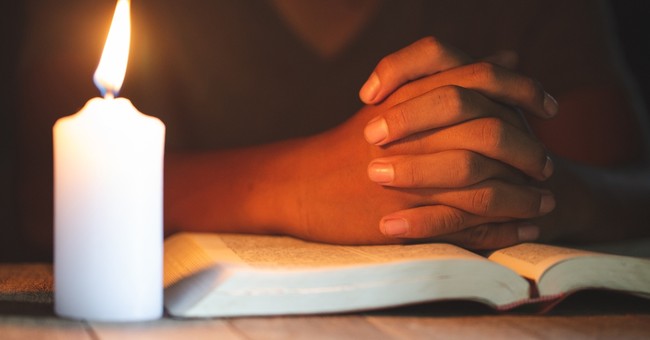 5 maniere waarop nagbybellees jou sal help om te slaap
1. Dit verbind ons harte met God s'n.  Die meeste dae is besig en gevul met mense, aktiwiteite en onderbrekings. Ons het selde 'n oomblik alleen of 'n paar minute om net te besin oor wie God is en wat Hy doen. Deur ons Bybel snags te lees, laat ons hierdie spesiale tyd toe om ons harte met God in lyn te bring net voor ons gaan slaap.
2. Dit laat ons toe om aan die einde van die dag waarheid te praat. Die nuus, sosiale media, kollegas en selfs familie praat elke dag in ons lewens. Ons luister na feite en sprokies en word soms oorweldig deur al die inligting wat ons tot ons beskikking het. Om te gaan slaap met God se Woord in ons gedagtes laat ons die waarheid onthou. Maak nie saak wat ons in ons dag te staan ​​gekom het nie, God se Woord en Sy waarheid kan die laaste ding wees waaraan ons dink voordat die ligte uitgaan.
3. Dit bied 'n geleentheid vir ons om te groei in ons kennis van God se Woord.  Nee, ons gaan nie diep persoonlike Bybelstudie doen tydens hierdie nagtelike Bybellees nie, maar ons kan ons kennis van God uitbrei. As ons fokus op net 'n paar vertroostende verse oor God en wat Hy doen asook wie Hy is, kan ons groei in daardie kennis. Ons word nie afgelei deur mense en gebeure nie. Nag is 'n wonderlike geleentheid om van God te leer.
4. Dit help ons om mediteer te oefen.  Om oor God se Woord te mediteer is een van daardie dinge waaroor in die Bybel gepraat word, maar Christene het vandag min idee van wat dit beteken. Eenvoudig gestel, bemiddeling beteken om oor na te dink. Waaraan dink jy terwyl jou kop die kussing tref? Staar jy op na die plafonwaaier en dink aan alles wat jy moet doen (of nie gedoen het nie)? Wat as jy eerder aan God gedink het? Wat as jy diep nagedink het oor die waarheid en God se Woord? Dit is wat ons sal help om snags beter te slaap.
5. Dit raak ontslae van benoude gedagtes.  Leesgedeeltes oor vrede en God se troos het 'n dieper impak in die nag. Ek weet nie van jou nie, maar  angs  is baie sterker in my gedagtes in die nag as gedurende die dag. Om daardie angswekkende en kommerwekkende gedagtes wat snags in ons gedagtes deursyfer te help beveg, kan ons God se Woord lees om te help om daardie vrede te gee wat ons nodig het!
Drie dinge om in gedagte te hou
Ons kan almal saamstem dat Bybellees in die nag uiters voordelig is, maar hoe doen ons dit? Lees ons willekeurige gedeeltes? Hoe lank lees ons? Wat lees ons? Ek wil drie wenke met jou deel om jou Bybel saans te lees. Dit kan elke aand gebruik word of jy kan kies en keur om 'n paar van hierdie metodes te probeer. Selfs al lees jy jou Bybel gedurende die dag, of doen 'n  Bybelstudie met etenstyd . Bybellees in die nag is anders. Hier is drie dinge om in gedagte te hou.
Wenke om jou Bybel in die nag te lees
1. Lees slegs klein gedeeltes van die Skrif. Dit is nie die tyd om 'n diepgaande Bybelstudie te doen nie. Bybelstudie is anders as om jou Bybel te lees. Wanneer ons die Bybel bestudeer, probeer ons verstaan ​​en toepas wat God se Woord sê. Met Bybellees lees ons eenvoudig net die Woorde van God en laat ons toe dat die waarheid van daardie woorde ons harte en verstand beïnvloed.
2. Hou 'n plan gereed om te gaan.  Moenie deur jou Bybel blaai soos jy deur sosiale media blaai nie. As u 'n plan in plek het, kan u presies weet wat u lees. Planne kan eenvoudig wees, soos aktueel of bloot net beplan om 'n paar verse van 'n kleiner Nuwe-Testamentiese boek te lees. Jy kan selfs net een Psalm of een Spreuke 'n aand voor slaaptyd lees.
3. Moenie probeer om verwarrende gedeeltes te lees nie.  Wanneer jy wel beplan wat jy gaan lees, maak seker dat jy bekende of vertroostende gedeeltes kies. Jy sal dalk nie deur die boek Job of 2 Kronieke wil lees as jy nie vertroud is met daardie boeke van die Bybel nie. Jy kan beslis daardie gedeeltes lees en bestudeer, maar nag is dalk nie die beste tyd om dit te doen nie.
Psalms om jou te help aan die slaap raak
As jy nie weet waar om te begin nie, wil ek jou help! Jy is nie agter in jou Bybellees nie. Ek weet jou hart is om God se Woord meer getrou te lees. Hoekom nie in die nag begin nie? Dit sê in  Psalm 121  God slaap nooit. Hy is altyd wakker en gewillig om jou op die bladsye van Sy Woord te ontmoet.
Persoonlik het ek gevind dat die Psalmboek die mees vertroostende en beste plek is om te lees wanneer jy probeer om aan die slaap te raak. Daar is soveel waarheid oor God en wat Hy daar doen. Daar is gebede, liedere en bemiddelings regdeur die boek om ons in die regte rigting te help wys – maak nie saak hoe ons voel nie. Maak nie saak wat ons in die gesig staar nie, die God van die Bybel sal ons vertroos, lei, leer en lei.
So, maak jou Bybel oop en ontmoet Hom daar. As jy 'n plan wil hê, het ek een wat ontwerp is om jou deur verskeie psalms te neem, wat almal praat oor 'n goeie nagrus. Jy kan dit  hier aflaai .