Scientifically, life is defined by the state of existing, even having a soul. Though when people describe life in their own words, they talk through experiences.

As people on Earth, we may live to see joyful moments such as a graduation, marriage, even the birth of a baby. However, we may also encounter tragedies including divorce, the death of a loved one, or loss of a relationship.

God's initial design for Earth was ideal, free of any and every tragedy. This was the Garden of Eden in the Book of Genesis. The paradise God created didn't last though.

Due to the original sin of Adam and Eve, the ideal paradise created for humanity was lost (Genesis 3:14-19). Mankind was cast out with a number of consequences, all because of one choice. Now, there is no way to escape a life of suffering. Anyone who lives a full life will have happy moments, but they will have sad days too.

Jesus expressed this truth best.

 "These things I have spoken unto you, that in me ye might have peace. In the world ye shall have tribulation: but be of good cheer; I have overcome the world." (John 16:33)

Knowing that life will naturally incur difficulties means that we as believers will face our own set of challenges. Yet, Jesus tells us to be of "good cheer," which lets us know that we don't have to succumb to our misfortunes.

The question then becomes how do we as Christians remain cheerful no matter our circumstance? The answer to that question is provided in the Bible.
How Does Scripture Strengthen and Encourage Us?
"When I observe your heavens,
the work of your fingers,
the moon and the stars,
which you set in place,
what is a human being that you remember him,
a son of man that you look after him?"
The Bible presents a very clear picture with examples of how God loves his people. This verse from Psalms highlights God's intimate relationship with humanity despite all the creations He has made.
He gives special consideration to us.
God's Word not only speaks to His love, but also instructs us on how to live. In order to be of "good cheer", as Jesus suggested, we have to know how to persevere through our trials and tribulations.
Life as a Christian means taking a daily walk with God in our faith. If life is full of up and down experiences, then naturally our faith at times will waver in our day-to-day experiences.
However ideal, as Christians we learn to develop faith that is unwavering no matter the circumstances. The way to achieve this is through Scripture, informing yourself of what God has given us as truth.
When we become equipped with truth we can overcome such problems as fear, persecution, and doubt.
The Bible offers plenty of wisdom and words of encouragement to lift up a weary spirit or simply strengthen your connection to God. If you are in need of a brighter spirit, then look no further. 
Here are 20 uplifting Bible verses to help encourage your daily walk with God.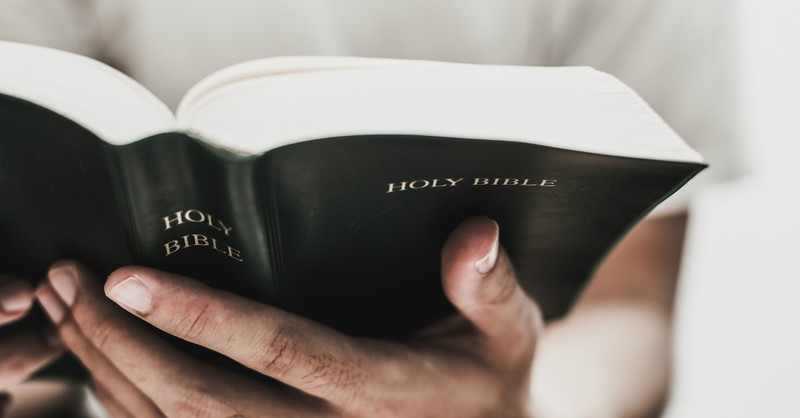 20 Uplifting Bible Verses to Encourage Your Daily Walk
"For God loved the world in this way: He gave his one and only Son, so that everyone who believes in him will not perish but have eternal life." (John 3:16)
This is a pleasant reminder that all present joys and sufferings are temporary. Eternal life is promised for God's followers, and that means joy everlasting!
"A friend loves at all times, and a brother is born for a difficult time." (Proverbs 17:17)
Friendships in the biblical understanding are not defined by people who are social media followers, but rather by people who engage in life's good and hard times.
"But God proves his own love for us in that while we were still sinners, Christ died for us." (Romans 5:8)
God demonstrates His love for His people throughout the Bible. Despite humanity's constant sinful nature, that didn't stop Him from sending Jesus. How refreshing to know God's forgiveness supersedes our sins.
"You will seek me and find me when you search for me with all your heart." (Jeremiah 29:13)
God is available to us, but we have to make the choice to seek Him out.
"And we have come to know and to believe the love that God has for us. God is love, and the one who remains in love remains in God, and God remains in him." (1 John 4:16)
God provides us with the perfect example of love through His Son. Our obligation is to emulate the behaviors of Jesus, including that same type of love.
"Iron sharpens iron, and one person sharpens another." (Proverbs 27:17)
Any community has the ability to strengthen its members, especially the Christian community. Being in community is how we encourage one another.
"We love because he first loved us." (1 John 4:19)
Our understanding and ability to love started in one place, God.
"The Lord appeared to him from far away. I have loved you with an everlasting love; therefore, I have continued to extend faithful love to you." (Jeremiah 31:3)
As the Bible shows, God's love is the only true unconditional love we will ever experience.
"No one has greater love than this: to lay down his life for his friends." (John 15:13)
Jesus demonstrated this love for us on the cross. We can demonstrate that love in our lives, as some have gone so far as to sacrifice their lives.
"There is no fear in love; instead, perfect love drives out fear, because fear involves punishment. So the one who fears is not complete in love." (1 John 4:18)
Too often Christians are under the belief that feeling fear means God is telling them not to do something. God has blessed us with emotions such as fear to inform us (fight or flight), but God's guidance in our lives is not contingent upon fear.
"But I say to you who listen: Love your enemies, do what is good to those who hate you, bless those who curse you, pray for those who mistreat you." (Luke 6:27-28)
Contrary to what some believe, Jesus advocates for using love in spite of opposition.
"For I am persuaded that neither death nor life, nor angels nor rulers, nor things present nor things to come, nor powers, nor height nor depth, nor any other created thing will be able to separate us from the love of God that is in Christ Jesus our Lord." (Romans 8:38-39)
If our own sins have not kept us from God since the Garden of Eden, neither will anything else. God's love is that magnanimous.
"My lips will glorify you because your faithful love is better than life." (Psalm 63:3)
God's love transcends our faults and transcends understanding. Being able to appreciate that love makes us view life differently.
Scriptures Continued
"Above all, put on love, which is the perfect bond of unity." (Colossians 3:14)
Love keeps communities bound on every level. Love keeps us in connection with God.
"I am able to do all things through him who strengthens me." (Philippians 4:13)
Long seasons of suffering, those who struggle with addiction or loss, everyone can find hope for change in Jesus.
"And be kind and compassionate to one another, forgiving one another, just as God also forgave you in Christ." (Ephesians 4:32)
Forgiveness must be given in order to be experienced.
"As far as the east is from the west, so far has he removed our transgressions from us." (Psalm 103:12)
God removes our sins so far from us that the distance is immeasurable.
"For it was you who created my inward parts; you knit me together in my mother's womb." (Psalm 139:13)
God's intimate relationship with humanity begins on the individual level and when we are first in the womb.
"Listen to counsel and receive instruction so that you may be wise later in life." (Proverbs 19:20)
The more information we learn, such as reading the Bible, the wiser we will be. The wiser we are, the more effortless our daily walk with God becomes.
"Now if any of you lacks wisdom, he should ask God—who gives to all generously and ungrudgingly—and it will be given to him." (James 1:5)
God is willing to help anyone become wise, though not everyone seeks wisdom.
Why Is it Important That We Read Scripture Every Day?
"The fear of the Lord is the beginning of knowledge; fools despise wisdom and discipline." (Proverbs 1:7)
We can now conclude that all misfortune in life, the reason we do not have heaven on Earth, is because of the original sin. While God makes use of our suffering, He did not create us to suffer (Romans 8:28).
Jesus forewarned that we would encounter troubles in life, but how we handle those troubles is largely dependent upon us. The Bible presents us with stories and accounts of wisdom, but we have to read and learn the information.
Much like learning a subject in school, we have to hear, repeat, and put into practice the teachings of the Bible in order to maintain and build our comprehension.
God has given us His Word because He desires for us to learn. He cares about how we live life.
For some, reflecting and improving one's spiritual life may sound like an arduous process, but the choice makes the difference between knowing how to handle life's tribulations or succumbing to them.
If God cares so much about us that He sacrificed His Son, then there must be something He wants us to gain by overcoming the tragedies in life. No matter what sin led to the fall of humanity, God's love has never stopped. "