One of the most beautiful passages in the
…comfort those who mourn and provide for those who grieve…to bestow on them a crown of beauty instead of ashes, the oil of joy instead of mourning, and a garment of praise instead of a spirit of despair. – Isaiah 61:2-3
What a relevant biblical promise for so many who are hurting these days due to health problems, marital strife, job loss, financial hardship, and worse.
Relevant, that is, if we understand the word pictures that the prophet Isaiah employs in these verses. In biblical times, abject sorrow, grief, mourning, anguish, and despair were expressed in very tangible and physical terms. The individual, couple, family, community, or citizens of a given region would:
1. Tear the garments they were wearing.
2. Throw ashes and dust on their heads.
3. Tear out, cut off, or shave the hair on their heads.
4. Remove their shoes, refrain from wearing nice clothes, quit using facial creams or oils, and stop perfuming themselves.
5. Dress in sackcloth—the equivalent of wearing a rough, scratchy, but sturdy farmer's market potato sack.
6. Sit in silence or cry or weep and then sing songs of lament.
7. Fast, refraining from food and sometimes from water for a time.
But we've come a long way in our faith journey, and have been reconciled through Christ. And God wants to clothe you in a garment of praise and joy, to lift you above your grieving.
So, what are some of the ways today that we can submit ourselves to God and demonstrate our trust in His mercy, grace, forgiveness, and love?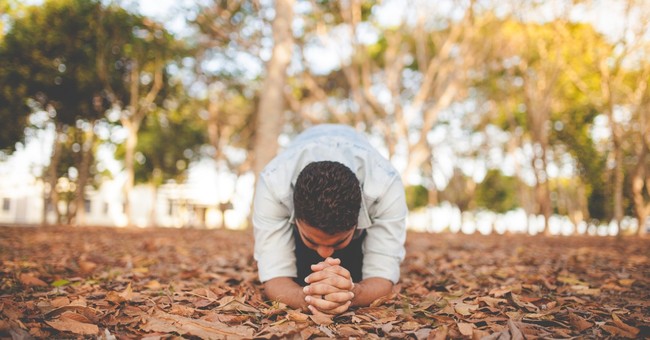 Photo Credit: ©Unsplash/Naassom Azevedo
Invite the Divine Work of Humility
Let's remember that while physical expressions of humility before God may take different forms in various cultures, they're as valid today as ever. Such physical expressions of humility before God can include bowing down before God, lying prostrate on the floor before God, weeping over sin in our lives or the lives of others, washing each other's feet, praying for one another, and taking time off work for the purpose of silence and meditation and prayer and Bible reading. Taking time to physically grieve is part of healing.
Physical expressions of humility before God can also include doing difficult or menial but necessary acts of service in the church, in the workplace, in institutions of learning, in hospitals and care centers, on the streets and rescue missions, in your home, in other people's homes, and in the community at large.
As well, physical expressions of humility can include public confession.
Rejoice That Life Is a Long Lesson in Humility
For our wedding 38 years ago, someone gave my wife, Renee, and me a napkin holder imprinted with that statement. If you think about it, that's a very bold and telling thing to say to a young couple—but very true. And very good. Even when the lessons are hard.
Humility is not denying the amazing strengths, talents, abilities, blessings, and gifts of God at work in and through my life. Humility is dependence on Jesus Christ and the strong awareness that God is at work in all his love and power in the other person's life just as he is in mine.
Let's rejoice that in time humility bears rich fruit. True, Renee and I have learned hard lessons in humility through grieving—including several severe losses of our own—but we have learned the sweetness of humility as well. Because God is near to the humble, God gives grace to the humble.
One of the Paths to Humble Trust Is Thankfulness
In seasons of grieving, it helps to offer thankfulness for what God has done in and through our lives, in the lives of those we love, and in the lives of our church family.
What about you? Where is your heart today? Are you wholeheartedly following Jesus Christ? Are you dependent on Him? Do you feel humble, righteous, and wise in the Lord's eyes? Do you feel cleansed, forgiven, blessed, and honored by God?
Do you feel thankful for all He's done in your life and in our midst? I hope so.
Or perhaps you're feeling conflicted inside. Maybe you've experienced crushing circumstances or overwhelming temptations that have all but shipwrecked your faith. Perhaps you've lost more money this past year than you ever thought possible. Perhaps you've lost the best job you've ever had, to boot.
Let's never forget that the Lord will comfort those who mourn and provide solace for those who grieve—bestowing on them a crown of beauty instead of ashes, the oil of gladness instead of mourning, and a garment of praise instead of a spirit of despair. (Isaiah 61:2-3).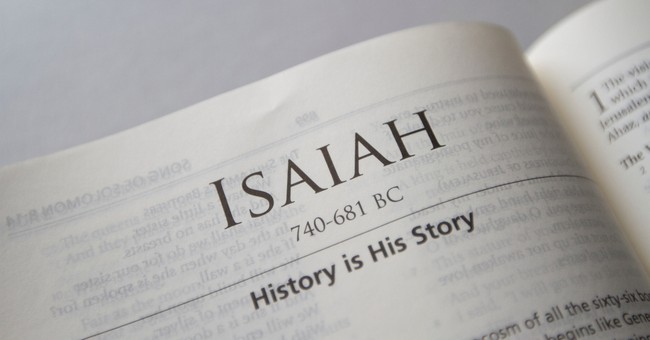 Photo Credit: ©Sparrowstock
10 Biblical Truths to Affirm While Grieving
1. I believe God blesses those who are humble. See Psalm 18:27, Psalm 138:6, Psalm 147:6, Psalm 149:4, Proverbs 3:34, Isaiah 29:19, Isaiah 57:15, Isaiah 66:2, Matthew 23:12, James 4:6, and 1 Peter 5:5
2. I believe God is compassionate. See Deuteronomy 13:17, Psalm 25:6, Psalm 51:1, Psalm 103:13, Psalm 145:9, Isaiah 30:18, Isaiah 49:13, Isaiah 54:8, Jonah 4:2, and Luke 15:20.
3. I believe not everyone has the same amount of faith—some have little faith, some have great faith. See Matthew 6:30, Matthew 8:10, Matthew 17:20, Acts 6:5, Acts 11:22-24, 1 Corinthians 12:9, 2 Corinthians 10:15, and James 2:5.
4. I believe God fulfills all of His promises. See Deuteronomy 7:9, Deuteronomy 8:18, Deuteronomy 9:5, Joshua 14:10, 1 Kings 8:15, 1 Kings 8:14, Nehemiah 1:5, Nehemiah 9:32, Psalm 146:6, Lamentations 2:17, Daniel 9:4, and 2 Corinthians 1:20.
5. I believe sin produces countless struggles and sorrows in this life. See Genesis 3:17-19, Exodus 34:7, Leviticus 26:18, Numbers 14:18, Deuteronomy 5:9, Joshua 22:20, Ezra 9:13, Nehemiah 9:33, Psalm 32:10, Psalm 34:21, Isaiah 13:11, Ezekiel 18:20, Amos 3:2, Romans 2:5, and Galatians 6:7.
6. I believe life on this earth is only temporal. See 2 Kings 19:26, Job 14:1, Psalm 39:4-5, Psalm 89:47-48, Psalm 90:5, Isaiah 40:6, Matthew 6:27, James 1:10, James 4:14, and 1 Peter 1:24.
7. I believe God offers eternal life to all who trust Him. See John 3:16, John 3:36, John 5:24, John 6:40, John 11:25-26, John 20:31, 1 Timothy 1:16, and 1 John 5:13.
8. I wholeheartedly believe God's promises for believers today. See Acts 2:38-39, Ephesians 3:6, Hebrews 4:1, Hebrews 6:17-18, Hebrews 10:23, Hebrews 12:26, and 2 Peter 3:9.
9. I believe God allows both the godly and the godless to experience trials, suffering, and pain in this life. See Ruth 1:13, Job 1:1, Job 1:13-19, Psalm 9:13, Psalm 38:6, Ecclesiastes 2:22-23, Jeremiah 7:8, Matthew 17:12, Matthew 26:39, Luke 4:25-27, John 9:1-3, and John 16:33.
See also Acts 8:1, Acts 20:19, Romans 1:27, Romans 8:17-23, Philippians 1:29, 1 Thessalonians 2:14, 2 Thessalonians 1:4-5, Hebrews 10:32-34, 1 Peter 1:6-7, 1 Peter 2:21-23, and Revelation 16:10-11.
10. I believe this world won't be free of suffering until the Lord makes the new heavens and new earth. See Isaiah 25:6-8, Romans 8:20-21, and Revelation 21:4
Photo Credit: ©Sarah Martin
7 Biblical Commands to Obey So Grieving Can Renew Trust
1. I humble myself before God. See 2 Chronicles 7:14, Ezra 8:21, Psalm 138:6, Micah 6:8, Luke 18:9-14, James 1:21, James 4:7, and 1 Peter 5:6.
2. I look to the Lord, who comforts me. See Psalm 10:17, Psalm 23:4, Psalm 71:20-21, Psalm 119:50, Isaiah 52:9, Matthew 5:4, Acts 9:31, 2 Corinthians 1:3-7, Philippians 2:1, and 2 Thessalonians 2:16-17.
3. I am patient even in the midst of difficult circumstances. See Psalm 27:14, Proverbs 25:15, Ecclesiastes 7:8, Romans 8:25, Romans 12:12, 2 Corinthians 6:6, Galatians 5:22, Colossians 1:11, Colossians 3:12, Titus 2:2, Hebrews 10:36, James 1:12, James 5:10-11, and 1 Peter 2:19-20.
4. I keep my faith even in the midst of trials. See Romans 5:3, 2 Corinthians 6:4, 2 Thessalonians 1:4-5, 2 Timothy 2:3, Hebrews 10:35-36, James 1:3, James 5:11, 1 Peter 1:5-7, 1 Peter 5:8-11, and Revelation 2:10.
5. I put my hope and trust in God. See Psalm 25:5, Psalm 25:21, Psalm 31:14, Psalm 34:8, Psalm 56:4, Psalm 62:8, Psalm 130:7, Psalm 146:5, Proverbs 3:5, Proverbs 22:19, Isaiah 26:4, Isaiah 50:10, and Lamentations 3:24.
See also John 3:18, John 12:44, John 14:1, Galatians 2:20, 1 Timothy 4:10, 1 Timothy 6:17, Hebrews 4:14, and Hebrews 10:23.
6. I put my hope and trust in God's Word. See Psalm 33:4, Psalm 19:7, Psalm 119:43, Psalm 119:74, Psalm 119:81, Psalm 119:114, Psalm 119:147, and Psalm 130:5.
7. I wait for the Lord to lift me up. See 1 Samuel 2:7, Psalm 3:3, Psalm 145:14, James 4:7-8, and 1 Peter 5:6.