"Fix these words of mine

in your hearts and minds; tie them as symbols on your hands and bind them on your foreheads" (Deuteronomy 11:18).
It's worth the pursuit to find a way to internalize God's Truth. The Bible mentions the importance of remembering God's word several times. Internalizing exactly what God's Word says is important, because there are many false prophets, incorrect interpretations and swaying temptations lurking in our daily lives. We need to know, in full confidence, what God's Word says.

"Let love and faithfulness never leave you; bind them around your neck, write them on the tablet of your heart" (Proverbs 3:3).

Why Memorize Scripture?

Memorizing Scripture equips us for the obstacles we will face and helps us to recognize God's blessings in our daily lives. Much like preparing for the day in prayer, time in God's Word readies us with what we may not even know we will need for the hours ahead. Memorized Scripture powerfully pulls us back into focus.

Moses wrote, "This observance will be for you like a sign on your hand and a reminder on your forehead that this law of the LORD is to be on your lips. For the LORD brought you out of Egypt with his mighty hand" (Exodus 13:9). Having God's Word written our hearts aids us in remembering who God is, and what He says is true – about us, our faith, and the surrounding world. John Piper wrote, "Storing texts in our minds about God helps us relate to him as he really is."
Be assured, no matter what leads us to memorize a passage or verse of Scripture, the purpose is divinely driven. Our God is not a God of coincidence. He purposefully places His alive and active Word within in our everyday lives. "All Scripture is God-breathed and is useful for teaching, rebuking, correcting and training in righteousness, so that the servant of God may be thoroughly equipped for every good work" (2 Timothy 3:16-17).

When unversed in God's Word, we leave our hearts susceptible to the all-consuming worry in the world. His Truth, alone, allows us to stand firm. Let's take a look at how to memorize Scripture effectively.

Photo credit: ©Getty Images/B-C-Designs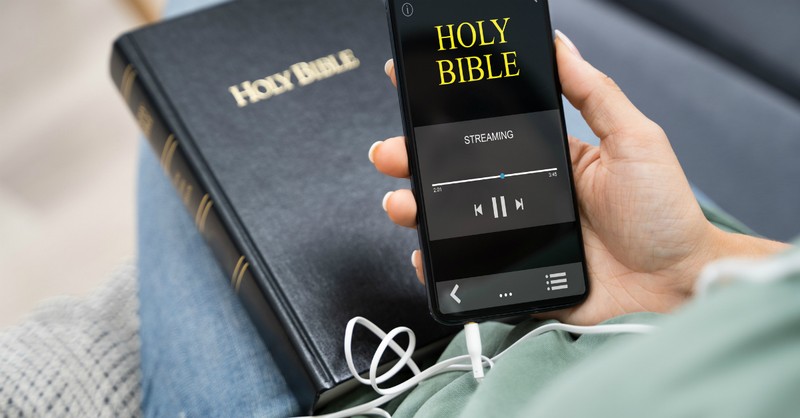 How to Memorize Scripture: 5 Effective Tips
Use the following steps to aid in memorizing Scripture. These methods are not the only way, or only order to utilize them in, but simply methods meant to aid us in writing more of God's Word on our hearts than we ever thought possible. It's amazing how, at just the right moment, a verse I forgot I had even internalized will rush to the front of my mind when I need it!
1. Read/Listen to the Bible
Start by reading a devotional plan, looking up popular verses to memorize (some are listed below), and pray daily for God to provide wisdom to know where to start. Reading the Bible can seem overwhelming at first, but when it becomes a daily habit, a supernatural spark is lit. We begin to experience how God connects the Bible to our daily lives, and personally connects with us through it.
Trying different translations of the Bible until a particular version resonates and relates specifically can be helpful. As can audio versions of the Bible and apps which read Scripture aloud to us.
When a passage or verse begins to stand out, or we find a piece of God's truth to help us through a specific struggle we are experiencing, start by reading it several times a day. Pull the complete sentence(s) rather than short fragments of Scripture. Read the text before and after the verse(s) chosen to memorize for context. Knowing who penned that particular piece of Scripture, what they were going through at the time, and who their audience was, can help us solidify the truth we are attempting to memorize.
Photo credit: ©Getty Images/Andrey Popov
2. Speak Scripture Aloud
For some it may be awkward to speak Scripture out loud, but it's worth the effort! Speaking God's Word has literal power! Isaiah wrote, "so is my word that goes out from my mouth: It will not return to me empty, but will accomplish what I desire and achieve the purpose for which I sent it" (Isaiah 55:11). And Paul wrote to the Philippians of the power in speaking Jesus' name!
Take a walk or a bike ride down a trail and repeat the Scripture over and over. Even on a quiet front porch morning, we can whisper or mouth the words, or close our eyes and visualize our voices speaking the verses. Having a small group of people to hold us accountable is very helpful! Even one friend, family member or neighbor who will listen and help hold us to the exact prose aids the process.
One of the ways we care for others is studying God's Word together. Galatians 6:2 reminds us to "carry each other's burdens, and in this way you will fulfill the law of Christ."
3. Write Out Bible Verses
Grab a journal, a notebook or piece of paper, and write down the specific verse or piece of text every day. If it's a long piece of Scripture, consider writing (and reading and reciting aloud) one verse or one section each day, or for a few days. For longer passages it takes me, personally, a week or so of writing one line or paragraph each day before I have a good handle on it to add more.
When the text is new, copy it word for word or line by line. Then, as the days go by, try to write as much from memory as possible. When finished, look back for mistakes, correct them and re-write them. God honors our daily efforts to internalize His Word, grow closer to Him, and learn more about His character. And the Holy Spirit, present in every believer as gifted to us by Jesus' sacrifice on the cross, aids us in recalling God's Truth.
Photo credit: ©Getty Images/RyanKing999
4. Place Scripture Purposefully
Our daily lives are packed with full calendars and overflowing with busyness. Purposefully placing Biblical passages throughout our daily routines helps the memorization process. We can place these in the car, by the coffee, our bathroom mirrors, or the refrigerator door. Post it in the everyday places that our eyes naturally gaze upon.
Those of us who are creative may enjoy completing adult coloring cards of Bible verses or perhaps crafting our own. We can write out beautiful versions or find plenty of free printables online. Strategically placed reminders throughout our days help us to keep God's Word top of mind. As they become easier to remember, we can pause to recite the verses(s) aloud, eventually without gazing at the reminders. Small steps of obedience can make a big impact when memorizing Scripture.
5. Wear it
Every time my children sign up for an activity or reach a goal, there's a matching t-shirt or piece of memorabilia to commemorate it. Though just physical things, they represent accomplishment, fulfilled commitment, and hard work! The same idea can help us retain Scripture we either have or are attempting to internalize.
Hats, t-shirts, bracelets, bandannas, water bottle stickers – we can find Scripture written on just about anything and everything! If these reminders seem affordable, fun, and helpful, they can't hurt! However, they are not necessary to memorize God's Word. It's just one more way to remind ourselves of the truth we've worked so hard to write on our hearts.
Photo credit: ©Sparrowstock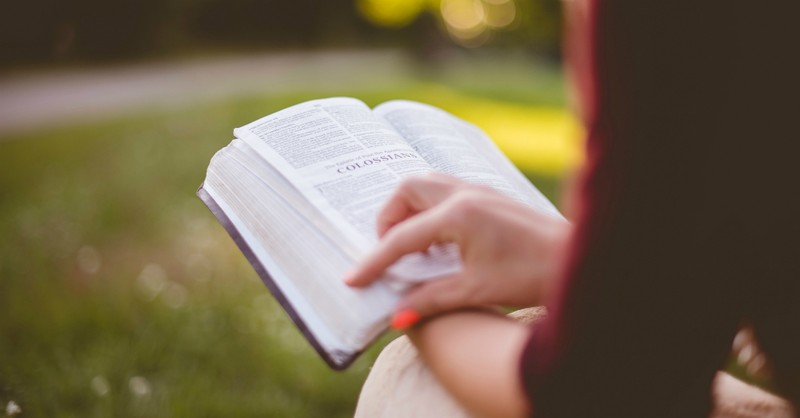 10 Verses to Start Memorizing Now
1. "Do not be anxious about anything, but in every situation, by prayer and petition, with thanksgiving, present your requests to God. And the peace of God, which transcends all understanding, will guard your hearts and your minds in Christ Jesus" (Philippians 4:6-7).
2. "It is for freedom that Christ has set us free. Stand firm, then, and do not let yourselves be burdened again by a yoke of slavery" (Galatians 5:1).
3. "For God so loved the world that he gave his one and only Son, that whoever believes in him shall not perish but have eternal life" (John 3:16).
4. "This righteousness is given through faith in Jesus Christ to all who believe. There is no difference between Jew and Gentile, for all have sinned and fall short of the glory of God, and all are justified freely by his grace through the redemption that came by Christ Jesus" (Romans 3:22-24).
5. "Whoever dwells in the shelter of the Most High will rest in the shadow of the Almighty. I will say of the LORD, 'He is my refuge and my fortress, my God, in whom I trust'" (Psalm 91:1-2). (Try to memorize Psalm 91, in its entirety!)
6. "Rejoice always, pray continually, give thanks in all circumstances; for this is God's will for you in Christ Jesus" (1 Thessalonians 5:16-18).
7. "'For I know the plans I have for you,' declares the LORD, 'plans to prosper you and not to harm you, plans to give you hope and a future'" (Jeremiah 29:11).
8. "Trust in the LORD with all your heart and lean not on your own understanding; in all your ways submit to him, and he will make your paths straight" (Proverbs 3:5-6).
9. "Jabez cried out to the God of Israel, 'Oh, that you would bless me and enlarge my territory! Let your hand be with me, and keep me from harm so that I will be free from pain.' And God granted his request" (1 Chronicles 4:10).
10. "Even youths grow tired and weary, and young men stumble and fall; but those who hope in the LORD will renew their strength. They will soar on wings like eagles; they will run and not grow weary, they will walk and not be faint" (Isaiah 40:30-31).
Click here and here for more compilations of key Bible verses to memorize.
Memorizing God's Word transforms our hearts and minds, giving us the perspective to see through the lens of godly wisdom, and recognize God's hand at work in our lives. Instead of just pulling a verse out of the air, prayerfully get to know the story and the deep wisdom behind every note of God's truth.
The Bible allows us to connect with our Creator. As we authentically pray these verses over our lives, we learn more about who our Abba Father, Savior and Comforter – our Living God – is.