Joy is a term that App ears
approximately 165 times in the KJV translation, 182 in the NASV, and 218 times in the NIV. Nivine Richie with UnlockingtheBible.org shares, "In the English Standard Version of the Bible, the words "joy," "rejoice," or "joyful" appear a total of 430 times, compared with "happy" or "happiness," which appear only ten times." Here we have collected some of our favorite Bible verses about joy to share with you, but first, let's take a look at what joy really means.
As we read in Scripture, joy is a state of being, and it differs from happiness, which may come and go. Happiness is usually measured by our circumstances, whereas joy is measured by what we have been given. As Christians, we have been given something that cannot be taken away. We have joy because of the grace of Jesus Christ that lives in us. We can hold onto joy, we can feel joyful, and we can rejoice with praise no matter what our circumstances may be because no matter what is going on in our lives God is always near.
Even if we're having a bad day, we can joyfully focus on our Savior and who He is in our life and who Jesus is to the world. No matter how down we are, there is always joy to be found in the Lord and Scripture is filled with examples of joy.
Below are Bible verses and Scripture quotes about joy to inspire your faith and encourage your heart.
Need more gratitude in your life to experience joy? Download our FREE 30-Day Gratitude Prayer guide to experience more joy today.
Photo credit: ©GettyImages/ksenija18kz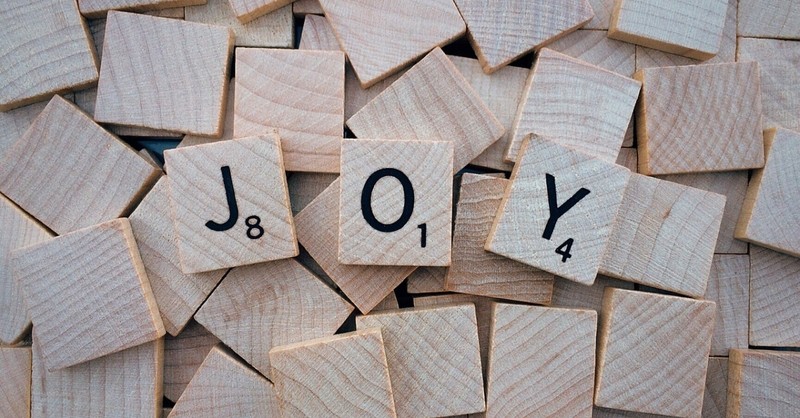 12 Old Testament Bible Verses about Joy
Psalm 16:11,
"You make known to me the path of life; you will fill me with joy in your presence, with eternal pleasures at your right hand." 
Nehemiah 8:10,
"Nehemiah said, 'Go and enjoy choice food and sweet drinks, and send some to those who have nothing prepared. This day is holy to our Lord. Do not grieve, for the joy of the LORD is your strength.
Isaiah 55:12,
"You will go out in joy and be led forth in peace; the mountains and hills will burst into song before you, and all the trees of the field will clap their hands."  
Psalm 30:5,
"For his anger lasts only a moment, but his favor lasts a lifetime; weeping may stay for the night, but rejoicing comes in the morning."
1 Chronicles 16:26-28,
"For all the gods of the nations are idols, but the LORD made the heavens. Splendor and majesty are before him; strength and joy are in his dwelling place. Ascribe to the LORD, all you families of nations, ascribe to the LORD glory and strength." 
Psalm 126:5-6,
"Those who sow with tears will reap with songs of joy. Those who go out weeping, carrying seed to sow, will return with songs of joy, carrying sheaves with them."
Zephaniah 3:17,
"The LORD your God is with you, the Mighty Warrior who saves. He will take great delight in you; in his love he will no longer rebuke you, but will rejoice over you with singing."
Proverbs 10:28,
"The prospect of the righteous is joy, but the hopes of the wicked come to nothing." 
Isaiah 61:10,
"I delight greatly in the LORD; my soul rejoices in my God. For he has clothed me with garments of salvation and arrayed me in a robe of his righteousness, as a bridegroom adorns his head like a priest, and as a bride adorns herself with her jewels."
Jeremiah 15:16,
"When your words came, I ate them; they were my joy and my heart's delight, for I bear your name, LORD God Almighty."
Psalm 71:23,
"My lips will shout for joy when I sing praise to you— I whom you have delivered."
Habakkuk 3:17-19,
"Though the fig tree does not bud and there are no grapes on the vines, though the olive crop fails and the fields produce no food, though there are no sheep in the pen and no cattle in the stalls, yet I will rejoice in the LORD, I will be joyful in God my Savior. The Sovereign LORD is my strength; he makes my feet like the feet of a deer, he enables me to tread on the heights."
Photo credit: Pixabay/WWokandap
12 New Testament Scriptures about Joy
John 15:11,
"I have told you this so that my joy may be in you and that your joy may be complete."
Romans 15:13,
"May the God of hope fill you with all joy and peace as you trust in him, so that you may overflow with hope by the power of the Holy Spirit."
James 1:2,
"Consider it pure joy, my brothers and sisters, whenever you face trials of many kinds,"
Galatians 5:22,
"But the fruit of the Spirit is love, joy, peace, forbearance, kindness, goodness, faithfulness,"
Philemon 1:7,
"Your love has given me great joy and encouragement, because you, brother, have refreshed the hearts of the Lord's people."
Acts 2:28,
"You have made known to me the paths of life; you will fill me with joy in your presence."
Romans 12:12,
"Be joyful in hope, patient in affliction, faithful in prayer."
3 John 1:3-4,
"It gave me great joy when some believers came and testified about your faithfulness to the truth, telling how you continue to walk in it. I have no greater joy than to hear that my children are walking in the truth."
Hebrews 12:1-3,
"Therefore, since we are surrounded by such a great cloud of witnesses, let us throw off everything that hinders and the sin that so easily entangles. And let us run with perseverance the race marked out for us, fixing our eyes on Jesus, the pioneer and perfecter of faith. For the joy set before him he endured the cross, scorning its shame, and sat down at the right hand of the throne of God. Consider him who endured such opposition from sinners, so that you will not grow weary and lose heart."
John 16:24,
"Until now you have not asked for anything in my name. Ask and you will receive, and your joy will be complete."
1 Thessalonians 2:17-20,
"But, brothers and sisters, when we were orphaned by being separated from you for a short time (in person, not in thought), out of our intense longing we made every effort to see you. For we wanted to come to you—certainly I, Paul, did, again and again—but Satan blocked our way. For what is our hope, our joy, or the crown in which we will glory in the presence of our Lord Jesus when he comes? Is it not you? Indeed, you are our glory and joy."
Romans 14:17,
"For the kingdom of God is not a matter of eating and drinking, but of righteousness, peace and joy in the Holy Spirit,"
Photo credit: ©GettyImages/BBoonyacho
12 Bible Verses about Rejoicing and Having Joy
Psalm 5:11,
"But let all who take refuge in you be glad; let them ever sing for joy. Spread your protection over them, that those who love your name may rejoice in you."
Philippians 4:4,
"Rejoice in the Lord always. I will say it again: Rejoice!"
Romans 12:15
"Rejoice with those who rejoice; mourn with those who mourn."
1 Peter 1:8-9,
"Though you have not seen him, you love him. Though you do not now see him, you believe in him and rejoice with joy that is inexpressible and filled with glory, obtaining the outcome of your faith, the salvation of your souls."
 Psalm 118:22-24,
"The stone the builders rejected has become the cornerstone; the LORD has done this, and it is marvelous in our eyes. The LORD has done it this very day; let us rejoice today and be glad."
1 Thessalonians 5:16-18,
"Rejoice always, pray continually, give thanks in all circumstances; for this is God's will for you in Christ Jesus."
1 Peter 4:12-13,
"Dear friends, do not be surprised at the fiery ordeal that has come on you to test you, as though something strange were happening to you. But rejoice inasmuch as you participate in the sufferings of Christ, so that you may be overjoyed when his glory is revealed."
Luke 15:3-7,
"Then Jesus told them this parable: "Suppose one of you has a hundred sheep and loses one of them. Doesn't he leave the ninety-nine in the open country and go after the lost sheep until he finds it? And when he finds it, he joyfully puts it on his shoulders and goes home. Then he calls his friends and neighbors together and says, 'Rejoice with me; I have found my lost sheep.' I tell you that in the same way there will be more rejoicing in heaven over one sinner who repents than over ninety-nine righteous persons who do not need to repent."
Luke 15:8-10,
"Or suppose a woman has ten silver coins and loses one. Doesn't she light a lamp, sweep the house and search carefully until she finds it? And when she finds it, she calls her friends and neighbors together and says, 'Rejoice with me; I have found my lost coin.' In the same way, I tell you, there is rejoicing in the presence of the angels of God over one sinner who repents."
Psalm 32:11,
"Rejoice in the LORD and be glad, you righteous; sing, all you who are upright in heart!"
2 Corinthians 6:10,
"…sorrowful, yet always rejoicing; poor, yet making many rich; having nothing, and yet possessing everything."
Psalm 70:4,
"But may all who seek you rejoice and be glad in you; may those who long for your saving help always say, 'The LORD is great!'"
Photo credit: ©Crosscards.com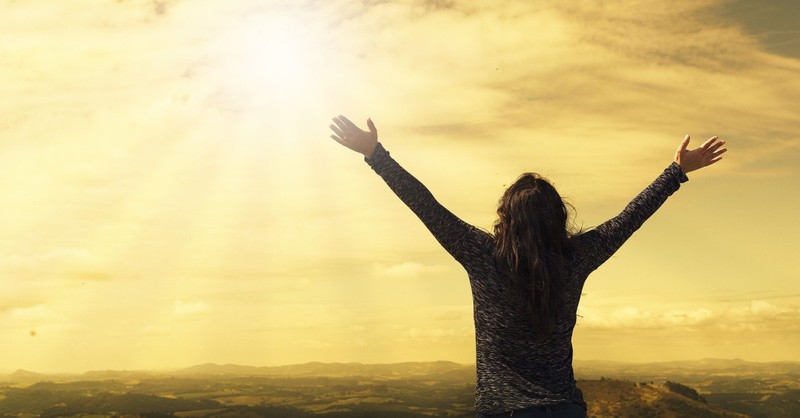 4 Joyful Songs of Praise from the Bible
Isaiah 12:1-6,
"In that day you will say: "I will praise you, LORD. Although you were angry with me, your anger has turned away and you have comforted me. Surely God is my salvation; I will trust and not be afraid. The LORD, the LORD himself, is my strength and my defense; he has become my salvation." With joy you will draw water from the wells of salvation. In that day you will say: "Give praise to the LORD, proclaim his name; make known among the nations what he has done, and proclaim that his name is exalted. Sing to the LORD, for he has done glorious things; let this be known to all the world. Shout aloud and sing for joy, people of Zion, for great is the Holy One of Israel among you."
Luke 1:46-55,
"And Mary said: 'My soul glorifies the Lord and my spirit rejoices in God my Savior, for he has been mindful of the humble state of his servant. From now on all generations will call me blessed, for the Mighty One has done great things for me— holy is his name. His mercy extends to those who fear him, from generation to generation. He has performed mighty deeds with his arm; he has scattered those who are proud in their inmost thoughts. He has brought down rulers from their thrones but has lifted up the humble. He has filled the hungry with good things but has sent the rich away empty. He has helped his servant Israel, remembering to be merciful to Abraham and his descendants forever, just as he promised our ancestors.'"
1 Samuel 2:1-10,
"Then Hannah prayed and said: 'My heart rejoices in the LORD; in the LORD my horn is lifted high. My mouth boasts over my enemies, for I delight in your deliverance. 'There is no one holy like the LORD; there is no one besides you; there is no Rock like our God. 'Do not keep talking so proudly or let your mouth speak such arrogance, for the LORD is a God who knows, and by him deeds are weighed. 'The bows of the warriors are broken, but those who stumbled are armed with strength. Those who were full hire themselves out for food, but those who were hungry are hungry no more. She who was barren has borne seven children, but she who has had many sons pines away. 'The LORD brings death and makes alive; he brings down to the grave and raises up. The LORD sends poverty and wealth; he humbles and he exalts. He raises the poor from the dust and lifts the needy from the ash heap; he seats them with princes and has them inherit a throne of honor. 'For the foundations of the earth are the LORD's; on them he has set the world. He will guard the feet of his faithful servants, but the wicked will be silenced in the place of darkness. 'It is not by strength that one prevails; those who oppose the LORD will be broken. The Most High will thunder from heaven; the LORD will judge the ends of the earth. 'He will give strength to his king and exalt the horn of his anointed.'"
Isaiah 26:1-21,
"… But your dead will live, LORD; their bodies will rise— let those who dwell in the dust wake up and shout for joy— your dew is like the dew of the morning; the earth will give birth to her dead. (vs. 19).
Related Articles:
Related Devotionals: Why Joy Is Never Dependent on Our Circumstances