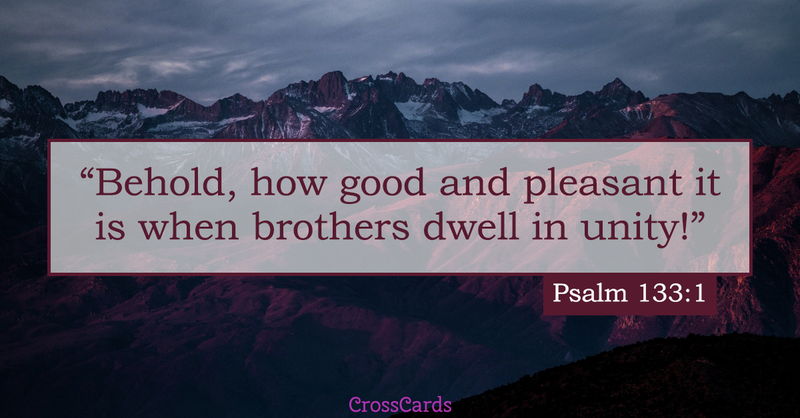 Unity Is Good
1. Psalm 133:1
"Behold, how good and pleasant it is when brothers dwell in unity!"
2. Matthew 5:9
"How blessed are those who make peace, because it is they who will be called God's children!"
"Therefore, I urge you, brothers and sisters, in view of God's mercy, to offer your bodies as a living sacrifice, holy and pleasing to God — this is your true and proper worship. Do not conform to the pattern of this world, but be transformed by the renewing of your mind. Then you will be able to test and approve what God's will is — his good, pleasing and perfect will. For by the grace given me I say to every one of you: Do not think of yourself more highly than you ought, but rather think of yourself with sober judgment, in accordance with the faith God has distributed to each of you. For just as each of us has one body with many members, and these members do not all have the same function, so in Christ we, though many, form one body, and each member belongs to all the others."
Despite the heartbreaking and tragic divisions in the world, God's word teaches us that unity is good. Unity is pleasing in God's sight and is something we should pursue as Christians. Each of us that make up the body of Christ, and humanity as a whole, do have different purposes, skills, personalities, and backgrounds, yet we can still be a unified body.
This is how God has established it, that we would be in perfect unity with one another, and even though this may not be a popular concept or goal in the world, unity is God's good and perfect way.
Photo credit: Crosscards.com
God Instructs Us to Live in Unity
"Live in harmony with one another. Do not be proud but enjoy the company of the lowly. Do not be conceited. Do not repay anyone evil for evil. Be careful to do what is right in the eyes of everyone. If it is possible, as far as it depends on you, live at peace with everyone."
"Now may the God who gives endurance and encouragement grant you harmony with one another in Christ Jesus, so that with one mind and one voice you may glorify the God and Father of our Lord Jesus Christ."
"Therefore if you have any encouragement from being united with Christ, if any comfort from his love, if any common sharing in the Spirit, if any tenderness and compassion, then make my joy complete by being like-minded, having the same love, being one in spirit and of one mind. Do nothing out of selfish ambition or vain conceit. Rather, in humility value others above yourselves."
7. 1 Peter 2:17
"Honor everyone. Love the brotherhood. Fear God. Honor the emperor."
We find in Scripture a call to live in unity with others. That means we should aim to be loving, accepting, and reconcile relationships that are strained or broken.
Consistently throughout the Bible, God's people are instructed to live differently than pagans or Gentiles or unbelievers. Instead, we are to live righteous and holy, and part of that means living in unity and peace with others to the best of our ability.
Photo credit: Crosscards.com
God Makes a Way for Unity
8. Daniel 9:9
"The Lord our God is merciful and forgiving, even though we have rebelled against him."
"For he himself is our peace, who has made the two groups one and has destroyed the barrier, the dividing wall of hostility, by setting aside in his flesh the law with its commands and regulations. His purpose was to create in himself one new humanity out of the two, thus making peace, and in one body to reconcile both of them to God through the cross, by which he put to death their hostility. "
10. Colossians 1:20
"And through him to reconcile himself to all things, whether things on earth or things in heaven, by making peace through his blood, shed on the cross."
11. 1 Timothy 2:5
"For there is only one God and one Mediator who can reconcile God and humanity – the man Christ Jesus."
Countries, governments, churches, marriages, and families are often torn apart for various reasons. Division is painful and may often have catastrophic consequences. But through the work of Jesus on the cross, hostility, hate, and separation have been abolished, and we have the freedom to live radically unified, reconciled, and joined in love and peace with others. 
As sinful human beings, we may be prone to hate, fear, and enmity, but Jesus paved another way for us. A way of peace, kindness, and compassion toward others that we have the privilege and task of living out.
Photo credit: Crosscards.com
We Choose Unity
12. Luke 12:58
"For while you are going with your opponent to appear before the magistrate, on your way there make an effort to settle with him, so that he may not drag you before the judge, and the judge turn you over to the officer, and the officer throw you into prison."
"Therefore, as God's chosen people, holy and dearly loved, clothe yourselves with compassion, kindness, humility, gentleness and patience. Bear with each other and forgive one another if any of you has a grievance against someone. Forgive as the Lord forgave you. And over all these virtues put on love, which binds them all together in perfect unity."
Get rid of all bitterness, rage and anger, brawling and slander, along with every form of malice. Be kind and compassionate to one another, forgiving each other, just as in Christ God forgave you. 
15. Hebrews 12:14
"Make every effort to live in peace with everyone and to be holy; without holiness no one will see the Lord."
It is up to each of us to decide to live according to Scripture and God's command for unity. Sometimes, the experiences we have in life make it difficult to follow the biblical model of righteousness, but Jesus can help us overcome any sin and obstacle in our lives.
Being critical, judgmental, or unforgiving feels easy or natural at times, yet as followers of Jesus, we are called to bear the fruit of gentleness, joy, and kindness. We can instruct our hearts and our attitudes to pursue unity. We can forgive, we can live in peace with others, and we can radically love people just as Jesus commanded.
Unity may feel hard or impossible to achieve, but truly, all things are possible through Christ Jesus.