You have probably heard
the expression "be true to yourself." This is a modern take on the quote from Shakespeare "to thine own self be true." Have you ever stopped to wonder what this actually means? This term can mean different things to different people, yet there seems to be some universal acceptance as to its actual meaning. Here are some key points:
– Know who you are and accept who you are.
– You can make your own choices and live your life the way you want to live it.
– Don't live to please others and don't live by someone else's rules or standards.
– Don't concern yourself with what other people think of you…just be you.
While there may be some truth hidden within these statements, there are some very subtle and very dangerous views existing within them as well. The underlying thought of this quote is who are you centering your life around?
With this being the premise, here are four reasons these "truths" don't line up with the truth found in scripture:
Photo Credit: ©GettyImages/LightFieldStudios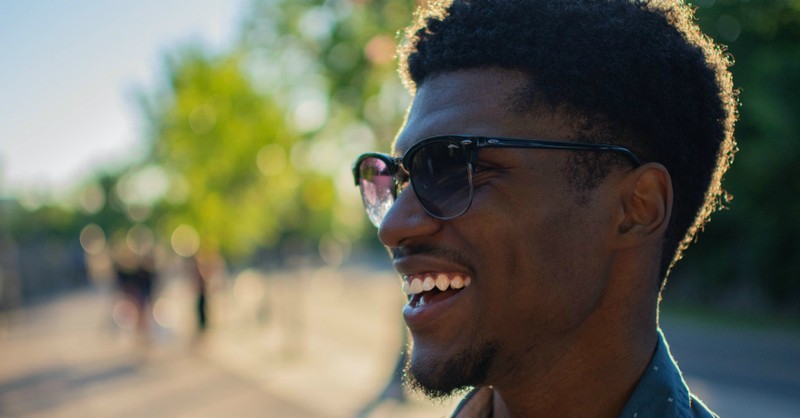 1. Know and Accept Who You Are
Biblical Truth: A wrong view of who you are can cause you to miss God.
The reality of who we all are is that we were born in sin. Psalm 51:5 reminds us "Surely I was sinful at birth, sinful from the time my mother conceived me." This is the story of every human life, including mine and yours. We were separated from God because of our sin. We were in desperate need of a savior. Coming to this conclusion about who you are helps you understand your need for God. Without this realization, repentance will seem unnecessary.
If you never recognize your need for repentance, you will miss God. You can't truly face who you are and be "true to yourself" without bringing your sinful nature into the equation. Especially if you want to be in relationship with God. 
The other side of this coin recognizes that in Christ you are a new creation. The blood of Jesus cleanses you from all sin and makes you brand new. Righteous. Justified. Forgiven. Free. In Christ, this is also who you are. 
The crux of the matter hinges on your willingness to allow God to define who you really are. If you do, then you will see your need and reach out to him. If you don't, then you fall into the trap of being "your own man" (or woman) and you can miss God in the process.
Photo Credit: ©Pexels/Jean-Daniel Francoe
2. You Can Make Your Own Choices and Live Any Way You Want
Biblical Truth: You can make your own choices…but should you?
The amazing thing about God is he gives us free will. Though he is all-powerful, he doesn't force us to do anything (even though he does have a way of "encouraging" us to make the right decision.) If you consider this concept from that perspective, then it is true. You can make your own choices and live life the way you want to. The question is, should you?
Listen to the wisdom of the Proverbs:
Proverbs 14:12
There is a way that seems right to a man, But its end is the way of death. (NKJV)
Proverbs 28:26
Those who trust in themselves are fools, but those who walk in wisdom are kept safe.
Proverbs 12:15
The way of fools seems right to them, but the wise listen to advice.
Free will comes with a price. Live your life the way you want, be true to yourself, and make your own decisions. That's one option which leads to death. The alternative is to seek Godly counsel, find true wisdom, and live. I vote for the latter.
When you understand Proverbs, you see the error of this thinking because it leads people away from trusting in God. Again, it's very subtle but it's very dangerous. God wants us to trust him with every decision. There is no decision too big or too small that we can't bring to our loving Heavenly Father. Let the Psalmist say it best:
Blessed is the one who does not walk in step with the wicked or stand in the way that sinners take or sit in the company of mockers, but whose delight is in the law of the Lord, and who meditates on his law day and night. That person is like a tree planted by streams of water, which yields its fruit in season and whose leaf does not wither—whatever they do prospers. – Psalm 1:1-3
Photo Credit: ©Unsplash/Eunice Lituan
3. Don't Live to Please Others or By Someone Else's Standards
Biblical Truth: We are called to serve others and follow God's commands.
The problem with the be true to yourself thinking is that it can lead to a worldview that centers around you. You become the center of your universe. God never intended this for us. In fact, Jesus summed up the law and all the commandments with two commands
Jesus replied: "'Love the Lord your God with all your heart and with all your soul and with all your mind.' This is the first and greatest commandment. And the second is like it: 'Love your neighbor as yourself.' – Matthew 22:37-39
It is impossible to live life without trying to please someone. We try to please God. If you are married you try to please your spouse. If you work for a company you try to please your boss. If you have a business you try to please your customers. It is unnatural to say don't try to please others because we do it in many areas of our life.
When you love someone, you want to see them happy. As a husband and father, I get great joy seeing the smiles on the faces of my wife and kids when I have done something that pleases them. While it's true you can't please everybody (and it's probably not a good idea to try), that doesn't mean you shouldn't try to please anybody. Most importantly we live to please God.
Regarding the second part of this thought about rules…I will let Jesus speak directly,
If you love me, keep my commands…Whoever has my commands and keeps them is the one who loves me. The one who loves me will be loved by my Father, and I too will love them and show myself to them. – John 14:15, John 14:21
If you want to have a living, thriving relationship with Jesus, you must live by his rules. Anything else doesn't work. If 'be true to yourself' means I get to set the rules, then you cannot walk in true fellowship with the living God.
He requires us to submit to his ways, not the other way around.
Photo Credit: ©GettyImages/Olivier Le Moa
4.  Don't Concern Yourself with What Others Think…Just Be You
Biblical Truth: Don't let your freedom in Christ become a stumbling block to others.
In Christ, we are all one body. What I do affects you and what you do affects me. More importantly, the way we live is painting a picture of what Jesus is like. After all, we are his ambassadors on earth. Notice what Paul says in 1 Corinthians 8:9-13:
Be careful, however, that the exercise of your rights does not become a stumbling block to the weak. For if someone with a weak conscience sees you, with all your knowledge, eating in an idol's temple, won't that person be emboldened to eat what is sacrificed to idols? So this weak brother or sister, for whom Christ died, is destroyed by your knowledge. When you sin against them in this way and wound their weak conscience, you sin against Christ. Therefore, if what I eat causes my brother or sister to fall into sin, I will never eat meat again, so that I will not cause them to fall.
While it is true that we have freedom in Christ, that freedom comes with responsibility. Like it or not we are our brother's keeper.
If you carry the name of Christ you can't just "do you" and not be concerned about how it impacts other people. This doesn't mean you lose your identity. It does mean you may choose to sacrifice part of your freedom for the sake of your brother or sister in Christ.
Paul said if my eating meat (this is someone forming an opinion of what Paul is doing) causes my brother to sin, then I won't do it. Not because I can't, but because I care more about my brother's development.
I am not saying this is always easy but we must acknowledge that people are watching and we have a responsibility to those people. Not for your sake, but for theirs.
Be True to Yourself…Maybe Not
Be true to yourself may look good on the surface but as you can see it can have some potentially dangerous consequences. Let's remember that God saved us and put us together as his body.
We are one body and one family. As one body when one part rejoices we all rejoice. When one part suffers we all suffer. We are all knit together and more than anything else—let's be true to Christ and true to each other.
Lord, help me to remember that I am part of your body and I am your ambassador. What I do matters and has influence and will impact those around me. Help me to never forget that. Amen.