As we are spending more time
Working through a study as a family is a great way to take the lead in shepherding your children's hearts. Setting aside time to explore God's word as a family will open the door to great conversations with your kids about what faith means to them.
Even as we can't physically gather together as believers, we should not neglect continuing to teach our kids about how much God loves them. Now is the time to focus our hearts and homes on being grateful for the gift of Jesus and the peace we have access to through our faith. 
We want to emphasize to our kids the fact that Jesus is with us and loves us even when we face hard times.
Our world is going through a trial but God is still good! That is the message we want our kids to internalize.
You, as a parent, can be the hands and feet of Jesus! Showing your kids the love of Jesus through your words and actions in this season of uncertainty.
We've come up with a list of great Bible Studies that will help equip you to teach your kids about God's love from home! These studies are great tools that will help you implement a routine of prayer and devotion with your family.
Check out these 15 kids' bible studies that can be a great resource to you as you teach your children about Jesus.
 This study offers a hands-on and educational way to connect Science and the Bible. Studying how our world works is a great way to point your kids to the truth that we serve an amazing Creator God!  Each Bible lesson is accompanied by an engaging science experiment to tackle as a family.  In addition to teaching your kids about God's word, this study also makes a great supplement to your homeschool curriculum. 
Right now our world may be feeling a little scary for your kiddos!  This Family Bible Study focuses on the Biblical truth that God is bigger than our fears and is there to comfort us when we are afraid.  The study has a memory verse and tackles common scary situations we may face and Bible stories that highlight God's faithfulness in those situations.  
Louie Giglio takes his well-known "How Great is our God" and "Indescribable" messages and has converted them to a fascinating and profound devotional geared towards kids ages 6 to 10.  These devotions explore various facets of science including: space, earth, weather, plants, animals, and more.  The devotions teach us about the more amazing aspects of our world and each devotion points to God as our Creator as well as elaborates on ways we can serve Him better! 
The Bible Made Easy for Kids covers the events of the Bible with easy-to-read stories.  This study also offers ways for your kids to connect with the stories they are reading as well as delve a little deeper with additional explanations of characters, events, words, symbols, and truths.  For some more hands-on fun the study includes coloring pages, maps, charts, and timelines.
5. Jesus Calling: 365 Devotions For Kids (Jesus Calling®)
Jesus Calling includes 365 devotions that will pull on your family's heart strings.   Each devotion conveys the truth of scripture from Jesus' point-of-view.  While these devotions are written for children, the whole family will be encouraged through the uplifting message each passage brings.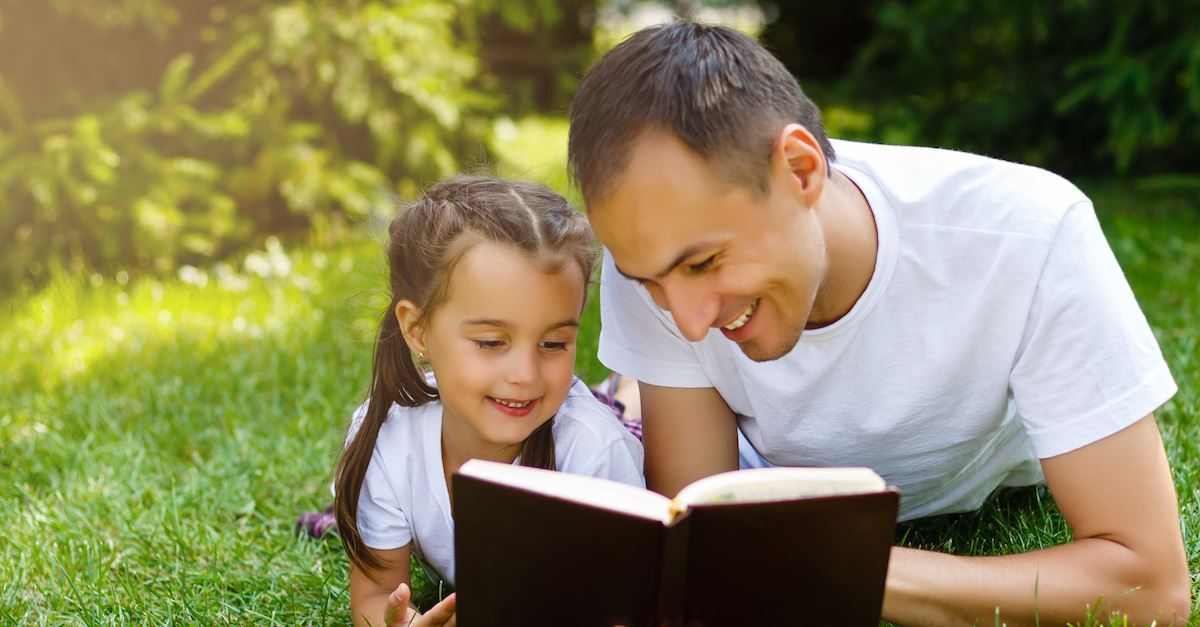 Photo Credit: ©GettyImages/Sinenkiy
Are your kiddos afraid of the dark or struggling with bad dreams that include monsters under the bed?  The Monsters Family Bible Lessons  help you talk to your kids about how God is our light, even when we are scared of the dark.   Monster Family Bible Lessons includes four lessons that tackles ways we may be afraid and how God is there for us. 
Bible Crafts Family Bible Lessons gives your family the chance to learn some of the great stories of the Old Testament through fun and creative craft projects. The study goes through some of the most well known Bible stories and pairs them with a craft that will help bring these teachings to life for your children.  Some of the stories covered include: Jonah and the Whale, Joseph's coat of many colors, baby Moses in the basket, and more!
Looking for a way to bring your family's devotion time to life? This devotional pulls out all the stops with unforgettable activities that pair with Biblical teachings for all ages.  This study is more than something to read together but offers a family experience. The activities create great ways to have fun together while exploring God's word.
Do you have a budding chef in your home that you are looking to connect with?  If so, this is the perfect study for your family.  This study walks you through whipping up some yummy treats together while talking about the stories of Jesus that are in the Gospels.  Not to worry, the treats to be made range from baking pretzels to just assembling a PB&J, so there is something that can be made with your help by kids of all ages.
How should our Christians be different from others as Christians?   The answer to that question lies in Galatians 5:22-23 where we find the Fruits of the Spirit listed.  This study explores each of the "fruits" by diving into passages from all throughout the Bible and exploring what we can learn about that "fruit" in that story.  It is the hope that as your family explores God's word you will be inspired to produce these fruits in your lives.
Photo Credit: ©Unsplash/Ben White
The Family Bible Devotional helps prompt conversations about Biblical truth for your family through thoughtful discussion questions, Bible readings, and provides additional background information.  This study is a chance to simply learn God's Word together as a family.  The content is deep and gives everyone in the family some great "food for thought" to help push them forward in their spiritual journey.
Looking for a devotion that you don't have to carve extra time out of your already busy schedule to commit to as a family?  This quick dinner time devotional is perfect for you! The book includes a 10-15 minute devotion that you can read together around the table everyday of the year.  The study includes discussion questions to help keep the conversation going after the reading ends.  You will love how this will enrich the time you share during meals by helping point your families hearts towards Jesus.
Does your family connect best through humor?  Then you will love Laugh and Learn Bible for Kids! It's a lighthearted family devotional that tells Biblical stories and tackles tough questions about faith. Each story is vividly illustrated, takes just five minutes to read, making it an easy addition to the day.  The devotions include a family connection to encourage family Bible study and help readers learn, talk, and pray together!
If your kids are like mine, they probably have a long list of questions about Heaven.  They are eager to learn what the Bible has to say about our eternal destination as believers.   This study allows them to explore Heaven and how it applies to our lives now.  The study tackles how we can bring Heaven on Earth, how we save up for Heaven, the best thing about Heaven, and imagining Heaven.
Billy Graham, one of the world's most beloved pastors, offers a daily guide for your child in understanding the truth of Scripture and trusting God's great love. This devotional offers the chance for you to pair this child centered devotional with a corresponding adult study, giving your family the chance to grow in your Biblical knowledge together! Your family will love the wisdom and hope these devotions inspire.  
Make the most of these months at home and commit to learning more about the Bible as a family unit. Learning the Word of God can bring hope, healing, and ways to connect to your family.  Find a study that excites you or pairs well with your kids' interests and dive in together.
Proverbs 22:6 says, "Direct your children onto the right path, and when they are older, they will not leave it." Committing to a family study is a great tool to help you on your journey to direct your children onto the right path for their lives.