Moreover, Jesus says "practice" not "master." He always spoke purposefully, so what is the reasoning behind Christ's choice of verb?
Photo Credit: ©GettyImages/MangoStarStudio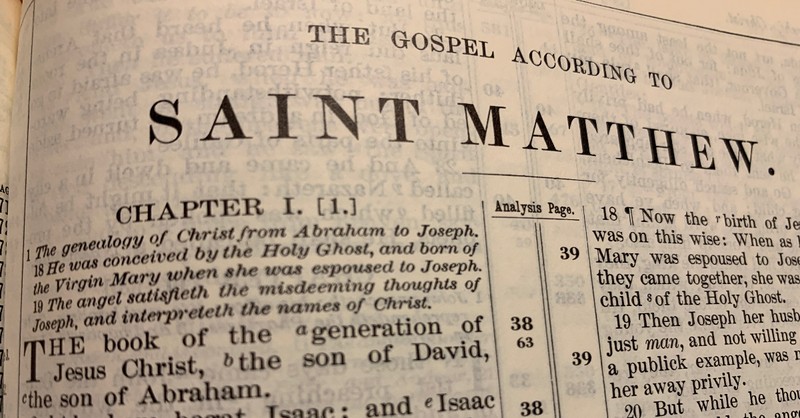 Where in the Bible Is the Phrase 'Practice What You Preach?'
This saying comes from Matthew 23:2-3. Jesus told His listeners "you must be careful to do everything they tell you. But do not do what they do, for they do not practice what they preach."
He was rebuking the Pharisees and enlightening the people: legalism is not from God. The Pharisees had created laws and set standards that were impossible for the Jews to follow. These rules were "heavy, cumbersome loads" placed on "other people's shoulders, but they themselves are not willing to lift a finger to move them." (Matthew 23:4) 
Who Wrote 'Practice What They Preach' and What Is the Context of Matthew 23?
The apostle Matthew has always been accredited with the authorship of the first gospel. Jesus had been teaching in the temple. The Matthew Henry commentary explains: "Many questions the Pharisees had asked Christ, by which, though they thought to expose him, they did but expose themselves."
In Matthew 22, we see how Jesus explained God's word regarding:
who is invited into Heaven

marriage in Heaven

paying taxes to the ruling authorities

the commandments
He challenges the Sadducees and Pharisees to identify the Messiah. Those who had planned to confuse Jesus or trick Him into heresy had been stumped. "No one could say a word in reply, and from that day on no one dared to ask him any more questions." (Matthew 22:46)
In Matthew 23, "we have his discourse concerning them, or rather against them." (Ibid.) Jesus warned against following the Pharisees, calling them "blind guides" and "hypocrites" (Matthew 23:24-25). He is angry with them for how they have burdened Israel's people with religiosity, and laments how they will "kill and crucify," "flog" and "pursue" the "prophets and sages and teachers" He is sending (Matthew 23:34).
Yet, Christ also laments "I have longed to gather your children together, as a hen gathers her chicks under her wings, and you were not willing. Look, your house is left to you desolate. (Matthew 23:37-38). Christ remains merciful to the hypocrites and hopeful for their sakes that they will be saved.
Photo Credit: ©Wikipedia
More Scripture References to Practice What You Preach
Paul writes "While you preach against stealing, do you steal? You who say that one must not commit adultery, do you commit adultery? You who abhor idols, do you rob temples? You who boast in the law dishonor God by breaking the law." (Romans 2:21-23)
James 1:22 exhorts Christians to "be doers of the word, and not hearers only."
Jesus instructed, "whatever you wish that others would do to you, do also to them." (Matthew 7:12)
1 John 3:18 says "Little children, let us not love in word or talk but in deed and in truth."
Speaking to a Pharisee at dinner in Luke 11:39, Jesus says, 'Now then, you Pharisees clean the outside of the cup and dish, but inside you are full of greed and wickedness.'
Hypocrisy was a problem among Pharisees, but also among His disciples. As crowds gathered to hear Jesus, He warned them "Be on your guard against the yeast of the Pharisees, which is hypocrisy." (Luke 12:1)
Practicing what we preach is not be easy because of our sin nature, so Jesus encouraged followers "you will receive power when the Holy Spirit has come upon you, and you will be my witnesses in Jerusalem and in all Judea and Samaria, and to the end of the earth." (Acts 1:8)
Believers can rest assured that what we cannot accomplish to His glory, He will accomplish through us by the Holy Spirit.
Photo Credit: ©GettyImages/ChesiireCa
Other Versions of Matthew 23:3
Editors of the ESV, Good News Translation, and the NIV chose "practice" and "preach." Most translations utilize other verbs. Practice is translated from the Greek "poieó" or "act" and "legousin" means "to say", but possibly to "name" or "command."
Versions of Matthew 23:3 include:
King James Bible: All therefore whatsoever they bid you observe, that observe and do; but do not ye after their works: for they say, and do not.
The Message: They talk a good line, but they don't live it.
Amplified Bible: So practice and observe everything they tell you, but do not do as they do; for they preach [things], but do not practice them.
HCSB: Therefore do whatever they tell you, and observe it. But don't do what they do, because they don't practice what they teach.
International Children's Bible: They tell you to do things, but they don't do the things themselves.
Practical Ways to 'Practice What You Preach'
How does a Christian live out Matthew 23:3? Firstly, we "preach" the Gospel: "Christ died for us while we were still sinners. In this way God shows his great love for us." (Romans 5:8)
Jesus loved His enemies enough to die on a cross for them, and we were His enemies. In fact, Christ died for repentant sinners before they repented. We repent and worship God by hating our sin and by acting out Matthew 22:34, the greatest commandment, love your neighbor as yourself.
"In your relationships with one another, have the same mindset as Christ Jesus." (Philippians 2:5).
Love "is patient, love is kind. It does not envy, it does not boast, it is not proud. It does not dishonor others, it is not self-seeking, it is not easily angered, it keeps no record of wrongs. Love does not delight in evil but rejoices with the truth. It always protects, always trusts, always hopes, always perseveres." (1 Corinthians 13:4-7)
Remember, Jesus did not teach us to "master" or "overcome," "to become skilled or proficient in the use of," or "to gain a thorough understanding of" something. When a Christian behaves as though he has "got it all together" that's like saying he has overcome sin and knows God completely. This person is righteous and doesn't need Christ.
But Jesus mastered sin for us.
As for knowing God completely, "the greatness of God no one can fathom." (Psalm 145:3) Why should we expect to know Almighty God fully? Finally, Jesus did what He taught us to do. Just as the opposite of the noun "master" is "servant," the reverse of the verb "master" is "serve." The Master served. 
Photo Credit: ©Sparrowstock
A Prayer to Practice What You Preach
Father, it is impossible to be steadfast in love, a faithful servant, in my sinful and fallen state. I can only act out a Christ-like love of others in His strength, by the Holy Spirit. So activate that Spirit; prepare me by Your Word and by surrounding me with other godly people to be ready to meet the needs of others.
Equip me when those needs are set in my lap. Strengthen me to stand firm in my faith when people let me down and do not live what they teach. Forgive me when I am a hypocrite and fail to act out what I say.
God, you alone are good, so I follow Your holy example for the purpose of glorifying the great name of Jesus. Amen.
Becoming a Pharisee is only too easy. It means expecting people to look and act a certain way before I will serve them, even though Christ suffered for me while I was still broken and dirty. Staying in Scripture and in Christian community makes all the difference. It's where we learn, practice, fail, and see that God upheld His promise to us—salvation by grace through faith. (Ephesians 2:8)