"Come to me, all who are weary… and I will give you rest." Matthew 11:28
Rest is essential for us in many ways. Without rest—and more specifically sleep—our mind and body are unable to function the way they were designed. We become unhealthy as our bodies go into chaos attempting to simply survive.
The same goes for the rest Jesus provides: without it we begin to lean on ourselves and away from Jesus, driving our bodies and minds alike to exhaustion.
Amidst the chaos of COVID-19 and being quarantined in our homes, people still refuse rest when it is offered to us in the most obvious way: physically having to be home. Our need for schedules and productivity have become more apparent than ever as we find any way to keep busy. We turn from rest without even realizing it.
Resting in Jesus is more than just a physical halt from activity. It is something we are called to tap into at all times, allowing Him to pour into us and work through us at all times. It is laying everything down at His feet and trusting that He will and has already done the work, all we need to offer is our obedience.
Rest can seem futile or redundant during this chaotic time due to the coronavirus, but it is that much more important that we lean into Jesus' arms and trust that we are held by Him. 
Where in the Bible Does Jesus Promise Rest for the Weary?
Jesus' most famous words about rest are found in Matthew: "Come to me, all you who are weary and burdened, and I will give you rest. Take my yoke upon you and learn from me, for I am gentle and humble in heart, and you will find rest for your souls" Matthew 11:28-30. This is an invitation to step into a life led by Jesus, in which he promises rest for weary and burdened souls
Seems simple enough, right? But the problem is that we don't often accept this rest. Jeremiah 6:16 paints that picture: "This is what the Lord says: "Stand at the crossroads and look; ask for the ancient paths, ask where the good way is, and walk in it, and you will find rest for your souls. But you said, "We will not walk in it.'" Jesus points us to His path of rest, but it is our choice to walk in it. 
What Does it Look like to Be Weary? 
So many ask the questions "what does it look like to rest" without first asking "what does it look like to be weary?
We live in a world that promotes hustle and full schedules. There is always another project to tackle, another item on our to-do lists, another goal to accomplish. It's true even in the midst of COVID-19 pandemic, now full of quarantine bucket lists.
We often idolize productiveness and mask, or even boast, about weariness. We compare our schedules to others to see who is "doing more." And this, my friends, is striving.
Striving is a constant struggle of trying to reach farther, do more, and be better. We take all of our resources and put it to the "doing."
This leaves us on empty.
We are pulling from our own limited resources rather than Jesus' unlimited supply of life. We are walking in the opposite direction of His path to rest.
"Looking" weary doesn't just look like dark circles under our eyes or 2 pm caffeine crashes at work, it often isn't that obvious. Weariness of the soul is often felt before it is seen, we hear those voices that we will never do or be enough, and in reaction, we do and try more and more until there is nothing left to give.
You may even feel like you're doing great, but you have to look inward and ask if you are "doing great" by the world's standards or Jesus'. 
What Does Jesus Mean by 'Come to Me All Who Are Weary, I Will Give You Rest?'
It can be hard to know what it means to "come to Jesus" when you're weary. You may be thinking "I'm already saved, I've already come to Jesus and I'm still exhausted." These are moments when we have to ask ourselves if we are actually walking with Jesus and allowing Him to pour into us.
Jesus is unchanging, yet He changes us completely when we turn to Him. He molds us to look more like Him. He promises to be our life source, that we would die and be reborn in Him.
There is no striving in Jesus. He has already finished all the work that needs to be done, all He asks is that we come to Him and let Him do the work He so desires to do in our hearts.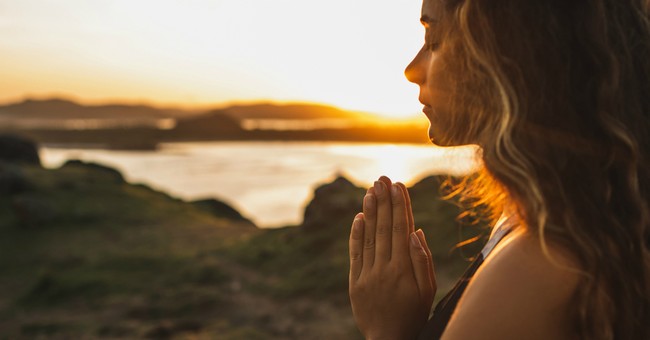 Photo Credit: ©GettyImages
What Does Biblical 'Rest' Look Like?
Rest has gotten a distorted definition from the world. "Rest" for the world often looks like a face mask, a TV binge, or a glass of wine after dinner. While these things can be enjoyable, they give a false, worldly sense of rest.
In Matthew 11:29, Jesus specifically offers rest for our souls. This goes beyond physical rest, like sleep, or winding down from a long day with TV and comfort food. It is not just a Sabbath without work.
The rest Jesus gives is unlike any other, reaching to the depths of our heart and soul.
While the world constantly demands performance and conformity from us, Jesus gives rest to stay in His unchanging presence. We no longer have to strive to be perfect because Jesus gave His life so that we could be set free. We gain spiritual rest as well as an eternal rest spent in the presence of God, starting right here and now with Jesus' peace.
This, however, doesn't mean that life will be easy once we accept Jesus into our lives and allow Him to lead us. He tells of hardship and rejection from the world, but when we have Him, we can rest secure knowing His promises are good and will be provided for in full.
During this time of global pandemic where a kind of physical rest is being forced upon us, take advantage of the extra time in your schedule to really focus in on Jesus and rediscover what it looks like to rest in Him. 
Other Scriptures for Those Who Are Weary
Be still, and know that I am God – Psalm 46:10
It is finished – John 19:30
My grace is sufficient for you, for my power is made perfect in weakness – 2 Corinthians 12:9
Even youths grow tired and weary, and young men stumble and fall; but those who hope in the Lord will renew their strength. They will soar on wings like eagles; they will run and not grow weary, they will walk and not be faint – Isaiah 40:30-31
A Prayer for the Weary to Find Rest
Jesus, I come to you and ask for your rest and peace. I pray you lift this burden of doing off of my shoulders and take away my desire to strive. Allow me to sit in Your presence and let You do all of the work. I pray you mold me into Your image, instilling in me a restful spirit. Let me radiate Your peace onto others, even in the midst of chaos, and show me how to to walk down the path of rest. Amen.
---